Top Attractions in Bali, Visits and Places of Interest
Are you going to visit Bali soon or do you dream of going there? The number one tourist destination in Indonesia, Bali is a beautiful island full of must-see places to do and see! Here are things to do in Bali, to help you do this and so that you know what to do and what to see in Bali, here is a complete guide to top attractions in Bali and must-see places.
Bali is known for its volcanic mountains, its paradisiacal beaches, its coral reefs, its rice fields, its tropical forests and its typical villages with incredible charm.
It is not easy to prepare an itinerary in Bali as there are so many things to discover.
This list of things to do and see in Bali best for 2 weeks or 3 weeks. We have also supplemented this list with must-see places recommended by our travel community. There are many things to do in Bali, our travel guide here to give you some ideas, to better plan your visit in Bali.
Highlights
Between its beautiful sandy beaches, its turquoise waters, its spectacular seabed suitable for scuba diving, its renowned surf spots like those of Uluwatu, Kuta Beach or Padang Padang, its festive evenings like those of Seminyak or the Gili Islands, its preserved nature, its rice fields and its volcano which you can try to climb to watch the sunrise, its charming hotels with all comfort and affordable.
Bali, this paradise island in the Indian Ocean and Indonesia, has something to please travelers from all directions who want to get off the beaten track.
A jewel set to perfection, the island of Bali is also very interesting culturally. It is not nicknamed "the island of the Gods" by chance…
Due to Hinduism and its ancestral beliefs, it has a very rich cultural heritage including the many temples, traditional villages such as Ubud at the renowned craftsmanship and the large number of festivities are direct testimonies. It is therefore difficult not to find what you are looking for by exploring this Indonesian island on a trek, by renting a scooter or with a driver, whatever your travel desires, and by being equipped with the Bali tourist guide to find your itinerary… the Balinese magic is almost guaranteed!
So, what to do and where to go in Bali? Here are Things To Do in Bali (Bali Travel Guide)
These top attractions in Bali "list" is of course not exhaustive, and remains very subjective, but we hope it will be useful to you! Do not hesitate to complete it in the comments…!
1. Ubud, the cultural and spiritual center of Bali
Ubud is a city located towards the center of Bali where about 35,000 people live. It is considered to be the cultural and spiritual center of the island.
As you walk around Ubud, you will appreciate the many handicrafts and you may have the chance to experience ceremonies with traditional dances.
Located on high plateaus, Ubud has a very rich surrounding nature. You can easily escape to the tropical forest, discover the famous rice fields on the plateau or the beautiful Ayung River!
Many majestic temples stand in the surrounding area and you can't wait to discover them on foot or by bike.
Visiting Ubud in Bali is the feeling of being in osmosis with Balinese nature, culture and traditions. An authentic Bali tour for sure!
Here are some places to discover near Ubud:
The Monkey Forest of Ubud, another must-see in Bali
The Ubud Art market
Ubud Palace
Monkey Forest Road
Ubud Complete Guide: Top Places to Visit in Ubud

Pinterpandai, CC BY-SA 3.0, via Wikimedia Commons
From Seminyak to Ubud
From Seminyak to Ubudu takes 1 hour 30 minutes by car.
If you are in Seminyak and want to go to Ubud, you will see that there may be several means of transport to get there. This may be the easiest and most efficient way to get from Seminyak to Ubud. In fact, taking a taxi or a private driver is the easiest way to get to Ubud.
It is also the most expensive means of transport if you are alone. However, if you are 3 or 4 people traveling, the price is divided and is therefore quite advantageous. Therefore, in the event that you choose this option, just walk a little bit in the streets of Seminyak and you will quickly find a taxi there. Read also: How to Take a Taxi in Bali Without Getting Scammed or Cheated?
2. Denpasar, the largest city in Bali
Denpasar is the capital of Bali, located in the south of the island. This is the major city center and offers many activities to tourists who go there.
In Denpasar, it is possible to find wonderful beaches on the east coast towards Sanur. You can also immerse yourself in the festive atmosphere of Kuta further south.
There are many traditional and beautiful sites. We advise you to visit the temples of Pura Blanjong and Tanah Lot or the Bali Museum to immerse yourself in Balinese traditions.
Denpasar is definitely one of Bali's must-sees, although it is a more touristy region where it is difficult to rest.
Here are some ideas of places of interest to visit around Denpasar:
The Bajra Sandhi Monument

From top, left to right: Bajra Sandhi Monument (to the struggles of the Balinese people throughout history), Bali Temple, Mayor's office building, Fast food outlets with traditional Balinese architecture, and Cellular superstore in the city center. File:Aerial view of Bajra Sandhi Monument Denpasar Bali Indonesia.jpg: trezy humanoiz from Denpasar, IndonesiaFile:Bali Denpasar Museum.jpg: VasenkaPhotographyFile:Official Building Denpasar.jpg: Everyone Sinks StarcoFile:McDonald's (26768022835).jpg: BxHxTxCx (using album)File:KFC (26742837076).jpg: BxHxTxCx (using album)File:Cellular City Denpasar (26723228291).jpg: BxHxTxCx (using album)derivative work: Badpuccini, CC BY-SA 3.0, via Wikimedia Commons
3. Seminyak and Kuta, one of Bali's main resorts
Kuta is considered Bali's main resort. It is located south of Denpasar, in the south of Bali. Seminyak is more chic!
Who says seaside resort, says paradise beach, tourists, nautical and sports activities, festive atmosphere etc. We are far from authentic Bali but Kuta remains a magnificent region of Bali.
Its beaches have become surfing spots and many amateurs go there to learn about the sport. Moreover, you can find many surfboard rentals in Kuta.
Here are some places to visit in the Kuta area of Bali:
The city of Denpasar
Kuta Beach
The Legian district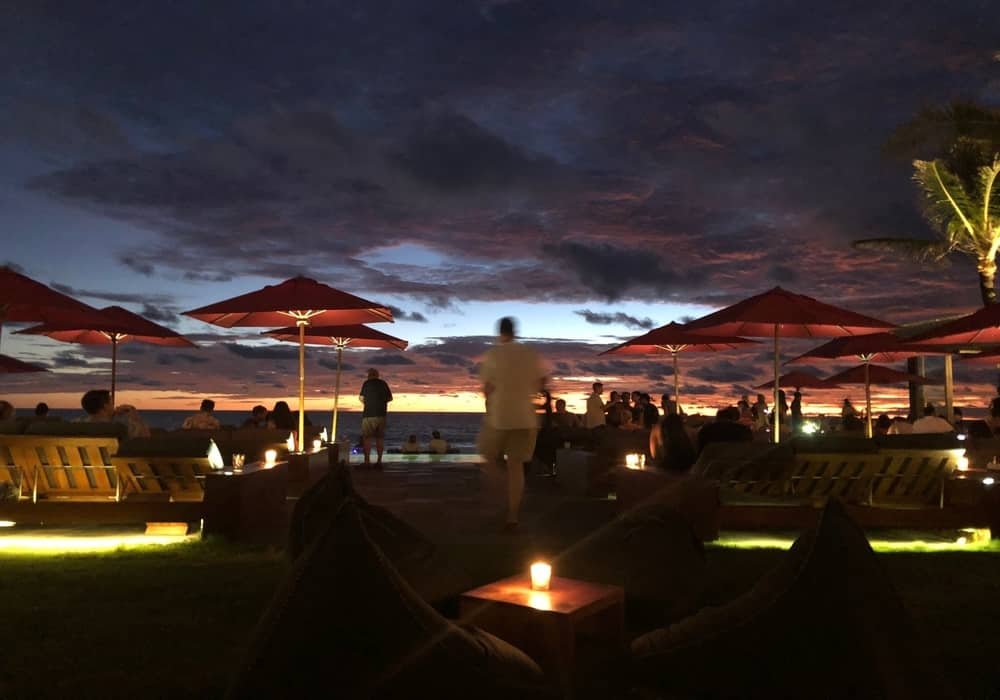 Seminyak
Located on the west coast of Bali, Seminyak is a popular resort town known for its vibrant atmosphere, upscale hotels, and trendy beach clubs. It offers a mix of luxurious accommodations, fine dining restaurants, high-end boutiques, and a bustling nightlife scene. Seminyak Beach is a highlight, where visitors can relax on the golden sands, enjoy stunning sunsets, and indulge in beachside activities.
Kuta
Situated south of Seminyak, Kuta is another prominent tourist destination in Bali. It is famous for its lively ambiance, vibrant nightlife, and bustling streets. Kuta Beach is a major draw for sunbathing, swimming, and surfing enthusiasts. The area is also known for its shopping centers, street markets, and a wide range of dining options. Kuta offers a more budget-friendly experience compared to Seminyak, attracting travelers seeking a vibrant and affordable beach holiday.
Both Seminyak and Kuta showcase Bali's renowned hospitality, stunning beaches, and a wide array of recreational activities. Visitors can explore the unique blend of modern amenities, cultural charm, and natural beauty that Bali has to offer.
Best Beach Clubs in Bali | Best Spots in Top Destinations for Beach Club Hopping
4. Pura Luhur Uluwatu Temple
Here is a wonderful temple to discover in Bali. The Pura Luhur Uluwatu temple is located on the cliff of Uluwatu in the far south of Bali. You just have to follow the end of the cliff to see it.
Built on the cliffs at 70 meters (229.6 ft) high, it has become popular with tourists, especially for its magnificent view of the Indian Ocean and its sunset. Walk around the temple and especially go to the edge of the cliff to enjoy the different views and take memorable photos.
If you are lucky enough to go there at the end of the day to enjoy the sunset, then it will be a feast for your eyes and your camera!
It is a temple dedicated to the God of the sea, hence its geographical location at the end of a cliff and surrounded by the sea.

Crab-eating macaca [Macaca fascicularis] at Uluwatu Temple at sunset, Bali, Indonesia. LBM1948, CC BY-SA 4.0, via Wikimedia Commons
What to do in Uluwatu | Must Visit Places Between Temples and Beaches in South Bali
5. Amed and the fishing villages
A much more authentic destination in Bali, Amed is located in the northwest of Bali.
Here, you can conquer the seabed thanks to the many diving and snorkeling spots. Amed is full of secrets buried at the bottom of the sea. One of the secrets to be discovered is the wreck of the USAT Liberty in Tulamben. You can scuba dive there… Thrills guaranteed!
If you dream of charm and authenticity, calm and serenity, then Amed is the must-see destination in Bali that you must add to your list!
Amed is one of the Best Dive Spots in Bali.
Here are some places to visit near Amed in Bali:
The wreck of the USAT Liberty at Tulamben
The small fishing villages
Coral reefs

Traditional Salt Maker in Amed. Many coastal communities in the south and east of Bali fulfill their economic needs through the informal sector, namely the business of making traditional salt. Surya Edy Gautama, CC BY-SA 4.0, via Wikimedia Commons
Amed Bali | A Little Paradise To Discover Absolutely On The Island of the Gods
6. Jimbaran, another seaside resort in Bali
Jimbaran is another resort located in the south of Bali, below Kuta and Denpasar.
It is a city and a fishing village which have made tourism profitable thanks in particular to the many paradisiacal beaches of the region.
It is an ideal destination to taste fish in the many restaurants.
The sea of ​​Jimbaran Bay is particularly calm and will make you want to rest in an idyllic setting.
At night, the festive atmosphere takes precedence over the sound of the waves because yes, Jimbaran is also lively at night!
Here are places to visit around Jimbaran in Bali:
Jimbaran Beach
Uluwatu street
Uluwatu Temple
Garuda Wisnu Kencana Park
Tegal Wangi Beach

Traditional fishing boat on Jimbaran, Bali. PHGCOM, CC BY-SA 3.0, via Wikimedia Commons
7. Hiking Mount Batur Volcano
Mount Batur is the best known volcano located in the north of Bali in the Kintamani area. Considered a sacred mountain in Indonesia, Mount Batur is perched over 1717 meters above sea level.
The volcano is still active but it is possible to climb Mount Batur.
To get straight to the heart of the matter, YES there is a kind of "guide mafia" that prevents you from accessing Mount Batur without being accompanied. The ascent could very well be done without a guide but it is simply IMPOSSIBLE!
Hiking Mount Batur in Bali | Hike to witness the sunrise from the top of the volcano!
If you are lucky enough to experience a sunrise or a sunset, then the experience is unique and you will be amazed! The Mount Batur hike is extraordinary and we highly recommend you do it!
In short, we pass on this point since the ascent is still really nice but you will absolutely have to climb Mount Batur with a guide by buying the ticket directly in Bali for about € 40 (around AU$ 70) or even simpler by booking your ticket online (at least you have your tickets on the phone and you don't have to run down the street to find the right provider…).

Sun is already un and shining on Batur volcano, Bali, Indonesia. Syselpunk, CC BY-SA 4.0, via Wikimedia Commons
8. Canggu, a charming village in Bali
Canggu is a small village bordered by a magnificent beach. Located in the southwest of Bali and west of Denpasar, tourists like to relax in peaceful nature.
Canggu is indeed quieter and less busy than Kuta which is a few kilometers to the south.
Canggu is a fashionable destination for tourists seeking authenticity in Bali. There is a surf spot, a heavenly beach, temples and rice fields.
Here are some places to visit around Canggu in Bali:
Canggu Beach
Batu Bolong Beach
Mejan Stone Beach (Pantai Batu Mejan)

The long black sand beaches of Canggu. User: (WT-shared) Burmesedays at wts wikivoyage, CC BY-SA 3.0, via Wikimedia Commons
9. Benoa, a seaside resort in Bali and fun watersports places
Benoa is another seaside resort which was built on an old fishing village towards Kuta Selatan. It is located in the southeast of Bali and offers many activities for tourists.
In particular, there are many luxury hotels that are located on the edge of the beach. The beach is also magnificent with transparent and calm water.
This seaside resort differs above all from the others for its calm and relaxing side. Here, no party until no time and the music at full blast.
Everything is done so that tourists can enjoy the surrounding calm and tranquility.

Beach and seascape Benoa Beach, Bali Indonesia. Bahtboy, CC BY-SA 4.0, via Wikimedia Commons
Here are some ideas of places of interest to do around Benoa in Bali:
Pasifika Museum
Waterblow Beach
Jimbaran Beach
Penangkaran Penyu Bali Tanjung Benoa Turtle Reserve
Fun Water Sports Activities in Bali | Jet Ski, Flying fish, Parasailing, Banana boat and Flyboard…
The temple of Tanah Lot is very well known thanks to its geographical layout. It stands in the middle of an islet called Pura Tanah Lot.
This Hindu temple is located on the west coast of Bali near the small village of Canggu.
This temple is one of the most famous on the island, because of its location: the Temple of Tanah Lot in Bali is "set" on a small rock in the middle of the ocean, about 100 meters from the coast, accessible at low tide. The spectacle of this temple in the middle of the waves at high tide is just magnificent!

Tanah Lot Temple at high tide, Bali, Indonesia. Jakub Hałun, CC BY-SA 4.0, via Wikimedia Commons
It is a high place of pilgrimage for believers and a place of photographs for tourists and photographers.
If you can have the chance to visit the temple during a sunset, then you can make great photos!

The Odalan ritual on Tanah Lot temple. Okkisafire, CC BY-SA 4.0, via Wikimedia Commons
11. Nusa Penida, a paradise island near Bali
Nusa Penida is an island that belongs to the province of Bali. It is located southeast of Bali, a few kilometers.
It is a fashionable destination to immerse yourself in a small paradise island, without volcanic mountains on its edge.
When you visit Nusa Penida, you fall under the spell of its paradisiacal beaches, its tropical forests and the seabed with incredible coral reefs. Difficult to find such turquoise water on Bali.
Nusa Penida is definitely an island you must visit if you go to Bali!
Here are places to see around Nusa Penida towards Bali:
Nusa Lembongan Island
Kelingking Beach
Crystal bay
Nusa Ceningan Island

Natural bridge and archway on Nusa Penida Island. Aaron Rentfrew, CC BY-SA 4.0, via Wikimedia Commons
Once on Nusa Penida, it would be a shame not to take advantage of the very small neighboring island that is Nusa Lembongan. Located north of Nusa Penida, it is a magnificent destination.
A real natural reserve of fish and underwater species, bring your mask and snorkels to discover the beauty of the seabed!
You can also do the third island which is called Nusa Ceningan.

Kelingking beach, Nusa Penida. Sasuke Shinozawa, CC BY-SA 4.0, via Wikimedia Commons
13. Jatiluwih rice fields
If you want to immerse yourself in the heart of the most beautiful rice fields in Bali, then you have to go to Jatiluwih!
The Jatiluwih rice fields are located in the heart of Bali.
There are hectares and hectares of rice plantations arranged in plateaus in the heart of lush and incredible nature. The scenery in the rainforest and the steep ravines are just beautiful to see.
Moreover, to prove to you the beauty of the place, it is enough to translate "Jatiluwih". You have it ? Well, that simply means "wonderful" like the place you are about to set foot in.

Jatiluwih rice fields, Tabanan Regency, Bali, Indonesia. rheins, CC BY 3.0, via Wikimedia Commons
14. Bedugul, the mountain resort in Bali
Bedugul is an atypical seaside resort since, unlike the others, there are no heavenly beaches or diving spots. It's a mountain seaside resort!
It is located in the north-central region of Bali towards the beautiful Lake Bratan. There are many villages in the region and many hiking departures for sports and nature lovers.
It is also the place where we find an incredible temple under the name of Ulun Danu.
Here are some ideas of places to see around Bedugul in Bali:
Lake Bratan
Ulun Danu Temple
Candi Kuning market
Jatiluwih rice fields
Banyumala Waterfall

Ulun Danu Bratan Temple, Bedugul. Johannnindito Adisuryo (Yohanes Nindito Adisuryo), CC BY-SA 4.0, via Wikimedia Commons
Best Waterfalls in Bali | Discovering the Natural Beauty and Wonders
15. CandiDasa, a haven of peace in Bali
Discover a very beautiful city located on the east coast of Bali: CandiDasa. You can discover the Goa Lawah temple carved in a cellar and which houses hundreds of bats.
This region has magnificent beaches bordering a freshwater lagoon. It is one of the must-see places to visit in Bali.
We discover landscapes isolated from all tourist constructions in Bali. It is a real haven of peace with an authentic side of Bali.
However, there are many things to do and see, such as exploring the superb seabed, discovering unknown beaches, visiting the Goa Lawah temple, or even meditating at the Lotus Lagoon.

Goa Lawah Bali. Arabsalam, CC BY-SA 4.0, via Wikimedia Commons
Here are some places to visit around Candidasa in Bali:
Goa Lawah Temple (Bat cave temple)
The Lotus Lagoon
The village of Tenganan
16. Padangbai, a small village in Bali
Padangbai is a small fishing village located in the south of Bali. It is a village known mainly for its gateway to another tourist island: Lombok. Many ferries run back and forth between Bali and Lombok.
By going to Padangbai, you can go diving and snorkeling on a superb paradise beach with turquoise water. This beach is called Blue Lagoon.
Another even more discreet beach, Bias Tugel Beach is less easy to access but is definitely worth the detour. Finally a beach on which you can rest quietly away from the tourist influx!

Padangbai, Bali, Indonesia. Alexey Komarov, CC BY-SA 4.0, via Wikimedia Commons
Here are the places to see around Padangbai in Bali:
Blue Lagoon
Bias Tugel Beach
Padang Bai Beach
Silayukti Temple
Located in East Bali, Tirtagangga Palace stands in a stunning area surrounded by lush nature. Tirtagangga means "water of the Ganges", thus taking up the sacred Tirtagangga springs that can be found there.
A 35-minute drive from Candi Dasa (18 km), this palace is a delight. The Tirta Gangga Water Palace in Bali, set on the sacred waters, is a veritable Garden of Eden where all is beauty. The nature that surrounds the statues, baths and fountains is wonderful. We didn't swim but you can take your bathing suits to dive into a swimming pool at the palace if you're not chilly.
Here, there are baths, gardens, water sources, rice fields and a palace. It is an old Water Palace surrounded by parks and gardens with many water sources.
Do not hesitate to walk there because here, the environment is very soothing. So walk through the park, passing many Balinese statues and flowers, each more beautiful than the other.
You can even swim in a sacred spring in the park!

View from the lower part to the upper part of Tirta Gangga water palace. Manuae, CC BY-SA 3.0, via Wikimedia Commons
19. Lempuyang Temple
Pura Penataran Agung is located on the slope of Mount Lempuyang 600 metres (2,000 ft) high above sea level.
At the exit of Abang, on the main road 5 km (3.1 miles) north of Tirtagangga, a road goes to the right towards Pura Lempuyang (the road is signposted), an important temple in the region and on the island. The road then splits in two, you have to turn right. It becomes very winding and climbs steeply for about 2 km (you will not be able to shift into 2nd gear – be careful if you are prone to motion sickness or if you are traveling with children…) It then leads to the car park of the lower temple from Lempuyang. We cannot continue further by car, we will have to finish by foot!

"Heaven Gate" Pura Penataran Agung Lempuyang. Chainwit., CC BY-SA 4.0, via Wikimedia Commons
Lower temple
The lower temple is impressive; stairs lead first of all to a gigantic symbolic door (candi bentar) in white stone, as if suspended in the air between the plunging view of the Agung volcano on one side and on the other, a large courtyard from which depart three colossal staircases. They represent nagas, these massive mythical serpents, bases of creation.
Their body undulates along the steps and ends in an impressive dragon's head. Three doors (closed to the public) open onto the upper altar. The view from this temple is well worth the detour. A word of advice: to take advantage of the most beautiful light and take in as much of it as possible, come especially early in the morning. And in addition, there will be a lot less people.
2nd temple
The second temple in the complex, Pura Luhur Lempuyang (luhur means "high"), the more sacred of the two, as the highest, is a good hour and a half walk away (at a good pace, but with breaks).
It is a bit demanding to access between the road and the many stairs, be careful if you are with young children or if you have difficulty walking. You have to take the small paved and very steep road that runs along the lower temple on its right for a good kilometers / miles.

This photo was taken using a mirror to give an impression of water surface and sky reflection in that surface. In real, there is no water in Pura Penataran Lempuyang "Heaven Gate", Bali. Jenniferbustamin, CC BY-SA 4.0, via Wikimedia Commons
The concrete stairs then begin to wind through a cloud forest with dense vegetation (between tree ferns, yuccas, dragon trees, etc.); there are 1,700 steps to get to the very top. The upper temple itself is much less impressive than the lower one, but it is often deserted during the day and there is a funny atmosphere. It is the territory of the monkeys who rummage through the remains of the offerings piled up behind the temple. Every morning and every evening, some devotees from the surrounding area climb these steps to make offerings at one of the island's directional temples, dedicated to the protection of East Bali.
20. The mountainous region of Kintamani
Kintamani is the mountainous region of Bali located in the north of the island. There are therefore mountains and volcanoes that surround small Balinese villages.
There is notably the famous Mount Batur and its Lake Batur. We strongly advise you to go for a walk there because the trails are magnificent!
You can go to the village of Penelokan to enjoy a superb view of the region. This is one of the most beautiful panoramas to do on Bali, landscape guaranteed!
In this region of Kintamani, there are also some temples including the Pura Ulun Danu Batur temple which was destroyed by an eruption. This temple is considered sacred by the Balinese community.

Kintamani. akain1000, CC BY 3.0, via Wikimedia Commons
Here are some places to do and see in the Kintamani area of ​​Bali:
Mount Batur
Lake Batur
Kintamani Village
Village of Penelokan
Pura Ulun Danu Batur Temple
21. Tampaksiring Town and Gunung Kawi Temple
The town of Tampaksiring is located in the center of Bali, in the Gianyar region. There is notably the famous temple of Gunung Kawi (official name: Pura Gunung Kawi Sebatu) and its archaeological site.
The Tirta Empul springs have made their reputation thanks to their therapeutic virtues. Pilgrims come to bathe there to purify themselves.
Gunung Kawi Temple
This area is located about 18 kilometers (11.80 miles) north of Ubud. The two main places to visit here are the Tirta Empul springs and the Gunung Kawi temple. The entrance does not give immediate access to the temple! You will walk along rice fields to reach the Pura Gunung Kawi. The rice terraces lead you down countless steps to a flat path. At Gunung Kawi, you enter an ancient Balinese royal site from the 11th century.
The sanctuary is made up of 10 niches, each housing a "candi", an 8-meter (26.25 ft) high sanctuary. The mausoleums on the east bank would be dedicated to King Udayana and his family while those on the west bank would be dedicated to the mistresses of King Anak Wungsu.
Local legend has it that the candi were dug in one night by the giant Kebo Iwa, protector of the kingdom of Tampaksiring. It is a famous pilgrimage site for Indonesians. Considered a true jewel of the Island of the Gods, Tampaksiring is definitely worth a visit.
Here you are in authentic Bali!
Here are the things to do in Bali, main places to visit around Tampaksiring in Bali: 
Tirta Empul Springs
Mengening Temple

Gunung Kawi Temple Complex, Tampaksiring village, Bali. rheins, CC BY 3.0, via Wikimedia Commons
22. Lake Bratan and its Ulun Danu Bratan Temple
This is now one of our favorite places in Bali. Lake Bratan is the second largest lake in Bali, located in the Bedugul area in the north.
The Ulun Danu Bratan temple was built on this lake in the 17th century so that the faithful could place offerings there intended for the goddess of the waters: Dewi Tanu.
Lake Bratan is Bali's main source of irrigation and water. Being located in north central Bali, it can irrigate many lands around.
If you see Indonesians taking pictures in front of the temple with 50,000 rp bills, don't be surprised. The Ulun Danu temple is represented on the ticket, which is to say the enthusiasm that the Indonesians have…

Bratan, Bali, Indonesia: Pura Ulun Danu Bratan, a balinese hindu temple. LukeTriton, CC BY-SA 4.0, via Wikimedia Commons
23. Lovina Beach
Lovina beach is another resort in Bali located on the north coast. Its black sand beaches have made its reputation.
You can witness the most beautiful sunset in Bali, while eating local fruits while sitting on the beach. Lovina is small but you can spend a week relaxing there.
In addition to the black sand, it is also the place where you can observe dolphins and corals while diving.
If you like hiking, you can take a trail that starts from Temoekoes village and takes you to Singsing waterfall. There is also a superb Dutch monument.
You can also bathe in the thermal springs of Banjar. In this park, there are hot water pools and tropical forests.
It is a very beautiful region of Bali that must be visited. Even though it is a very popular tourist destination, there are many activities and many must-see places for Bali to visit.

Beach shoreline at Lovina, Bali, Indonesia. Ken Eckert, CC BY-SA 4.0, via Wikimedia Commons
Here are some places of interest to go to in the Lovina Beach area of ​​Bali:
The Dolphin Statue
Lovina Beach
Pantai Lovina Beach
Pantai Lingga
Banjar thermal springs
Singsing Waterfall
Brahmavihara-Arama Buddhist Monastery
24. Lake Batur
As mentioned earlier in this article, Lake Batur is an essential place to visit in Bali. It is located at the foot of Mount Batur in the Kintamani region of northern Bali.
Backed by the volcanic slabs of Mount Batur and Mount Abang, Lake Batur (Danau Batur) is a striking crater lake considered sacred by the Balinese. Besides sunrise trekking, Mount Batur offers hot springs, canoe trips, and visits to Trunyan village, where Bali Aga residents expose their dead to rot in the open air.
It is a crater lake between Mounts Batur and Abang. It is the largest lake on the Island of the Gods with an area of ​​10 kilometers in diameter (6.2 miles in diameter). The color of the water varies according to the color of the sky.
You can reach the lake by a small road that leads to the Batur volcano. This road starts from the village of Penelokan.
You can then start your ascent to Mount Batur!

Lake Batur, Bangli Regency, Bali, Indonesia. LBM1948, CC BY-SA 4.0, via Wikimedia Commons
25. Tuban in South Bali
Tuban is a village located in the south of Bali, between the city of Denpasar and the peninsula of Bukit. It is particularly known for being not far from Ngurah Rai International Airport.
This may be the opportunity, if you are waiting for a plane, to enjoy Tuban Beach. This a beach is located not far from the famous beaches of Kuta and yet it has nothing to see.
It is mainly used by the local population for fishing, swimming or spending time with family. It is also a surf spot for the most seasoned.
The beach hotel is luxurious and the rates are quite expensive! We advise you not to stop there to eat.
Here are some places to visit around Tuban in Bali:
Circus Waterpark Kuta
Tuban Beach, Bali
Satria Gatotkaca Park
Pantai Kelan Beach

Atmosphere on Tuban Beach, Bali, Indonesia. ronnie.muhadi, CC BY-SA 3.0, via Wikimedia Commons
26. Sidemen Rice Fields
Sidemen is a village located in the eastern region of Bali. This small village enjoys an incredible environment since it is surrounded by mountains and rice fields.
Considered a cultural and artistic center, Sidemen enjoys serenity and absolute calm. You can discover magnificent rice fields surrounded by lush nature.
What we really appreciated while being in Sidemen, is that it is possible to walk many trails that leave in the middle of nature. There are plenty of opportunities for hiking!
You can also visit the Besakih temple about a good hour's drive from Sidemen. Besakih is a set of twenty temples built at the foot of the mount Agung.

Sidemen rice terrace. Adimelali Bali, CC BY-SA 3.0, via Wikimedia Commons
Best Temples in Bali | You need to visit one of them at least once during your stay in Bali
27. The Temples and Springs of Banjar
Banjar is a province located in the north of Bali in the Buleleng region. This area is known for its temples and hot springs.
There are beautiful waterfalls like the Singsing waterfall. Series of magnificent waterfalls in which one can bathe.
In the pools of Banjar, several dragon statues spit hot water. In a green setting surrounded by nature, these pools will do you a lot of good!
28. Klungkung, former royal capital of Bali (located in east of Bali)
Klungkung is also called Semarapura and is located in eastern Bali a few kilometers from Denpasar.
This is the former royal capital and it is an essential stopover to go to the east coast of Bali. There are many monuments in memory of the Gegel dynasty which reigned at the time.
An essential stopover on the road to the east coast of the island, Klungkung offers several thrilling visits, inviting you to take a walk through the ancient monuments bearing witness to the reign of the Gegel dynasty.
Among these, the main ones: the courthouse at Klungkung Palace (official name: Puri Agung Semarapura), covered with magnificent frescoes, the floating pavilion, a piece of Zen happiness in the middle of lotuses and water lilies, and finally the Klungkung Museum.
Here are the places that we advise you to visit near Klungkung in Bali:
Courthouse
The floating pavilion
The Klungkung Museum

Kertha Gosa Pavilion of Klungkung Palace (Taman Gili at Klungkung Palace), Semarapura, Bali. Satdeep Gill, CC BY-SA 4.0, via Wikimedia Commons
29. Tenganan Village
The village of Tenganan is one of the oldest in Bali. Located in the east of the island, it is known for its art of weaving and its traditional ceremonies.
If you want to find authenticity in Bali, you will be served at Tenganan!
You can attend dance performances, traditions, customs of the time. It is a village still spared by mass tourism.
To disconnect for a few hours or a few days, why not visit the village of Tenganan in Bali?

Bali Aga architecture in the village of Tenganan, Karangasem, Bali. DayakSibiriak, CC BY-SA 4.0, via Wikimedia Commons
Here are some ideas of places of interest to discover around Tenganan in Bali:
The ancient village of Tenganan Pegringsingan
Virgin Beach
Bale Agung Tenganan Dauh Tukad Museum
The nature reserve of Pulau Paus
30. Trunyan Village
This village located on the slopes of Gunung Abang is only accessible by boat. Trunyan has always benefited from a certain curiosity since it is considered one of the last Bali-Aga villages. "Bali-Aga" refers to the native Balinese, who settled in Bali before the Javanese and Sumatran conquests since the first Buddhist influences are traced back to Bali around the 7th century.
Some agree that it was the Srivijaya empire, with a community of more than 1,000 teachers and disciples, which would have already spread and spread the Buddhist doctrines and established monasteries almost everywhere in the most nearby, including Bali.

Bali Aga village, inhabited by descendants of the original Balinese, who do not cremate or bury their dead, but just lay them out to decompose, bones can be found on the ground. Paracetamol, CC BY-SA 3.0, via Wikimedia Commons
Rituals
Local chiefs or rulers would have submitted to the new ritual practices of deifying chiefs or kings (assigning them divine kinship) and purifying their souls after death. These new rites would not have reached the entire area of Bali and some would have retained their animist practices and their own ancestor worship. We can also realize the veracity of these animist practices attested by the presence of megalithic stones in the Pura Gedé Pancing Jagat, and the existence of a statue (Betara Da Tonta) more than 4 m high in an altar from the same temple.
Trunyan Village | Complete Guide to Visit the Skull Village a Traditional Village in North East Bali
Every three years, a ceremony is held in the Gedé Pancering Jagat temple which involves covering the statue of Betara Da Tonta with honey, lime and gold jewellery. No foreigners are allowed to attend.
In the village proper, there are 2 Bali-aga houses and an old waringin, or Banyan, tree said to be over 1000 years old. A little further, the Kuban cemetery is only accessible by the lake. The deceased bodies are neither buried nor burned, they are left to decompose in the open air in bamboo cages sheltered from scavengers. On several terraces are exposed skulls and bones.
---
Top Attractions in Bali for Water Sports – Engage in Water Activities
Traveling to Bali is a must-visit destination for travelers from all over the world. This island located near the Indonesian coast offers spectacular landscapes and is home to the most famous attractions not to be missed. If you're thinking of traveling to Bali, here's a guide to the best attractions and activities for water sports.
A trip to Bali opens the doors to a unique experience. Although the island is not very large, the diversity of landscapes and water sports is waiting for you.
Bali offers a plethora of water activities for thrill-seekers. Go snorkeling or diving to explore the vibrant coral reefs surrounding the island. Try your hand at surfing on the renowned waves of Echo Beach or Balangan Beach. For a unique experience, take a traditional wooden boat to Nusa Lembongan and enjoy activities like paddleboarding, kayaking, and jet-skiing.
Whether you love water sports, shopping or hiking, Bali is the perfect island for an exhilarating vacation. So, don't wait and start planning your trip to Bali and experience the best attractions and activities.
Water Sports Place in Bali | Best Spots for Aquatic Activities
Surfing
For almost 50 years, Bali has been an essential pilgrimage for surfers from all over the world in search of perfect waves, warm water and a relaxed lifestyle. The Uluwatu, Balangan beach, Dreamland beach, large bay of Kuta, the volcanic sand beaches of Canggu and the small white sand coves of the Bukit peninsula, there are waves for all tastes and all levels in Bali.
Best Spots to Surf in Bali | Ultimate Guide to Surfing in Bali | Surfers Paradise
Scuba diving
Bali is renowned for its clear water and colorful reefs dotted with tropical fish. Scuba diving enthusiasts will find a large choice of dive sites and centers. It is the ideal place to observe the best underwater attractions in Indonesia.
Best Dive Spots in Bali: A Guide to the Best Underwater Wonders
Best beaches in Bali for jogging or relaxing or both
If you are looking for an unforgettable trip, Bali is the ideal place. Between its white sand beaches, turquoise waters and mountainous landscapes, Bali is the perfect place for a memorable vacation. In addition to the unmissable white sand beaches, there are many attractions to discover in Bali. You can find black sandy beaches in Amed (East of Bali).
The Best Beaches in Bali | Most famous beach during your holiday
Snorkelling
With its warm waters, vast reefs and abundant marine life, Bali lends itself perfectly to diving. Throughout the island, schools and reliable diving centers welcome beginners and organize interesting trips for the more experienced.
Rafting
Rafting is a superb activity that is both sporty, entertaining and allows you to discover magnificent landscapes. To organize a rafting excursion in Bali you have the choice between the Ayung river in Ubud and the Telaga Waja river in Sidemen.
Best Rafting Spots in Bali | Places and Guide to do Raftings
Fun Water Sports Activities in Bali: Jet Ski, Flying fish, Parasailing, Banana boat and Flyboard…
Sandy beaches, turquoise sea… it's hard not to be tempted by some fun water activities, especially when the sun is out. In order to fully enjoy your vacation by the sea, consider practicing one of these fun and exciting activities that will leave you speechless. Example of fun water sports activities: jet ski, fly fish, fly board, parasailing, banana boat, paragliding, paddle board, kitesurfing, sea walking and many more…
Fun Water Sports Activities in Bali | Jet Ski, Flying fish, Parasailing, Banana boat and Flyboard…
Sources: PinterPandai, CleverlySmart
Photo credit (main photo): Thutruongvn / Pixabay
Discover the Best Hidden Gems in Bali: Off-the-Beaten-Path Destinations You Don't Want to Miss
---
Ready to book your villa in Seminyak center?
Located in Seminyak Center – Bali, Villa Carissa offers a private swimming pool and enclosed garden to guarantee your privacy. You can book your private pool villa here with us.
Whether you're embarking on a memorable family trip, a fun-filled adventure with friends, or a romantic escapade, Villa Carissa in the heart of Seminyak provides the ideal sanctuary to discover Bali's diverse attractions and savor a rejuvenating vacation. With its prime location, Villa Carissa ensures an unforgettable experience for all travelers seeking relaxation and exploration. Book now to create cherished memories in this exquisite haven.