Best Restaurants In Seminyak, Bali
Seminyak, on the west coast of Bali, is the upscale cousin of the town of Kuta, further south. The area is home to most of the island's expats, many of whom have set up shops, galleries and restaurants in the town. We list few of the best restaurants in Seminyak and explore the top culinary and savor the exquisite flavors that this beautiful destination has to offer.
Good to know for restaurants in Seminyak, and mostly in Bali, for foods are not too expensive, but when you take your meal with wines, they are more expensive.
Balinese specialties
– Urab: delicious mixture of coconut, beans or other finely chopped vegetables flavored with spices and peppers. Mainly Balinese dish.
– Ayam betutu: grilled stuffed chicken, served with vegetables, tapioca and coconut. Bali specialty.
– Bebek betutu: a tasty Balinese duck speciality. Stuffed and stewed for a long time in a banana leaf, it is always ordered the day before.
– Babi guling: roasted suckling pig. Excellent when it is not too greasy. It is mostly found in Bali.
Best Restaurants In Seminyak you should try (Seminyak Center)
In Indonesia, and particularly in Bali, we eat well. Rice is the staple, of course, and the national dish goes by the name of nasi goreng: fried rice with eggs, small pieces of meat and vegetables, or shrimp.
But Indonesian food is a reflection of the ethnic mosaic that the country represents: rich, surprising, varied and colorful.
Batik Restaurant and Bar, Southeast Asian, $$$
Certainly one of the most beautiful decorations in Bali, Batik is a restaurant that is worth the detour as much for the content as for the form. This venue is an ideal spot for an elevated coffee experience, allowing you to fully immerse yourself in the intriguing contrasts of expat life in Southeast Asia.
Batik restaurant is an Indonesian and South East Asian cuisines. Just like how various cultures inspired the line and shape of batik's patterns, our food also influences not only by Indonesian but also South East Asian cuisine. Following the transformation of batik throughout history, we also evolved our dishes according to the trend but not to forget the authenticity of tastes and secret ingredients.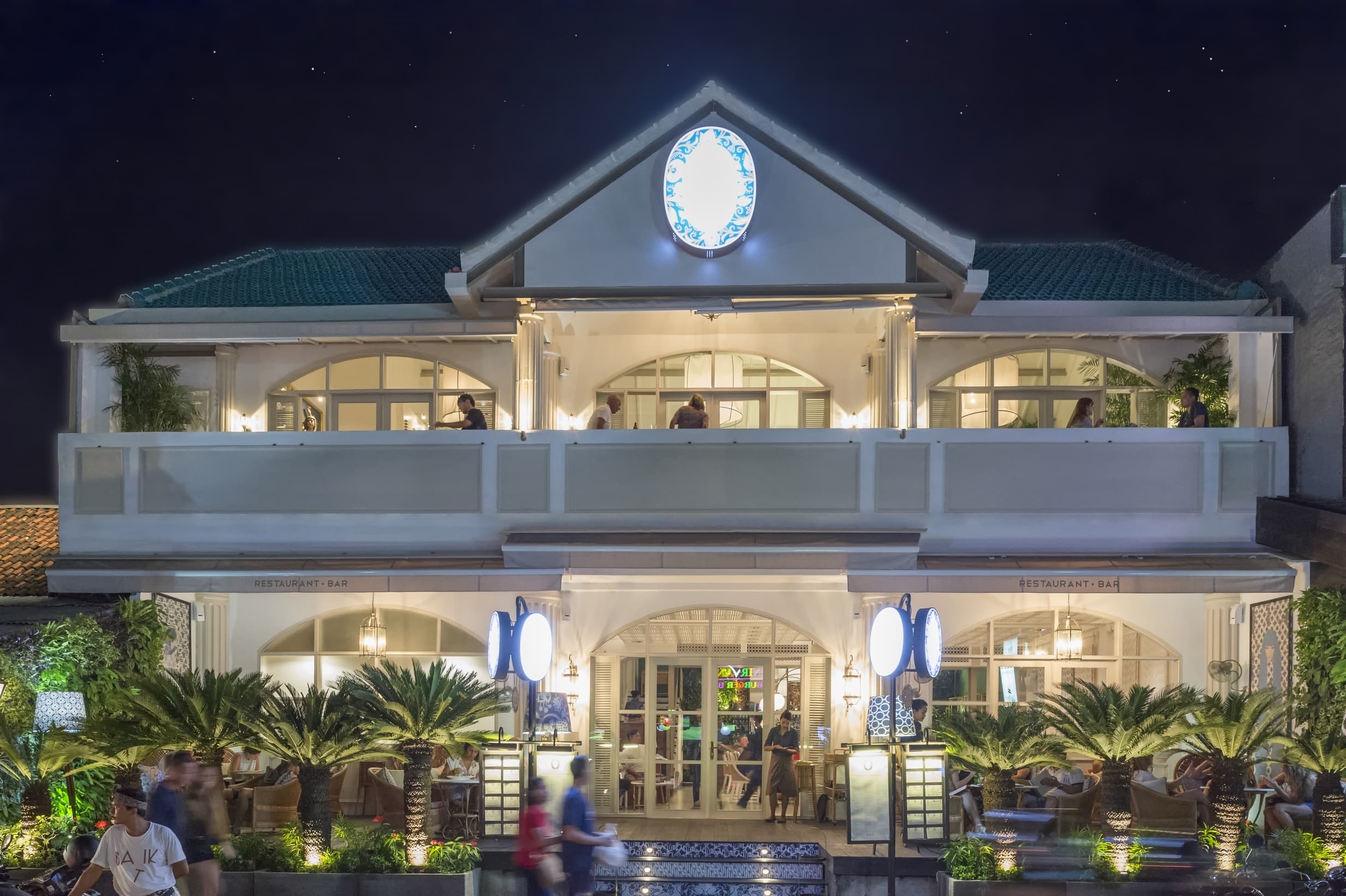 Website: https://batik-bali.com/
Reservation: https://batik-bali.com/reservation/
Ginger Moon Canteen, Asian Fusion, $$
Ginger Moon is a fabulous Asian fusion restaurant on Oberoi Street (Eat Street / Kayu aya Street). Really cool and stylish interiors, professional staff and delicious food, this is a must visit. The cocktails are also very good and the general atmosphere is great.

Ginger Moon Restaurant in Seminyak. Uploaded by Pinterpandai, Ginger Moon Restaurant Seminyak, Bali, CC0, via Wikimedia Commons
A contemporary dining venue influenced by the culture of Bali and Indonesia, highlighting the diverse range of tropical ingredients that define the region's cuisine.
Want to try a bit of everything? Ginger Moon has delicious sharing options. In fact, the menu, created by Executive Chef Dean Kedell, was created with sharing in mind.
Website: https://gingermoonbali.com/
Reservation: NowBookIt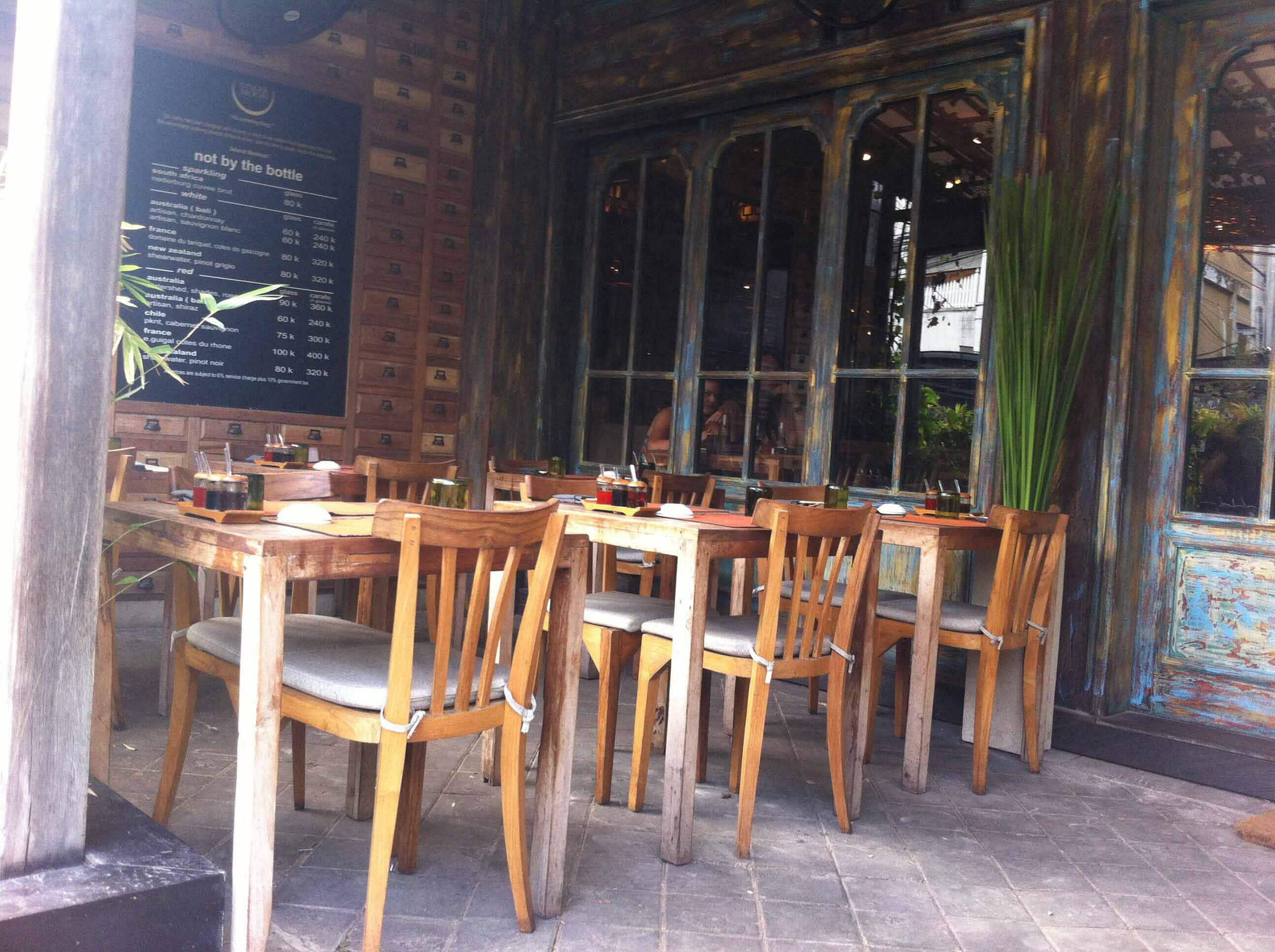 Chandi, Pan-Asian $$$
For years, Chandi has been a standout establishment in the heart of Seminyak. With its consistently friendly staff, delectable cuisine, and reasonable prices, it's a go-to destination you can trust without hesitation.
Their dedication to organic cultivation ensures that all greens thrive, while the rich variety of fruits and roots is carefully sourced from local Bedugul farmers. They greatly appreciate and value their contribution to their ingredients, allowing them to maintain their uncompromising standards. It's with this same commitment that they select only the most exquisite cuts of meat to feature on their menu.
Opening Hours: 10am – 12am​
Lunch : 10am – 4pm
Happy Hour : 12pm-6pm
Dinner : 6pm – midnight
Website: https://www.chandirestaurant.com/
Reservation: Google reservation
Sisterfields Cafe, International $$$
Situated opposite the Seminyak Village Shopping Center, this café is a well-frequented spot, particularly by young adults. The establishment offers two inviting dining spaces and a friendly staff ready to welcome you. The service is swift, with dishes served promptly, even during peak lunch hours.
Website: https://www.sisterfieldsbali.com/
The Corner House, International $$
At the end of Jalan Kayu Aya to go to The Corner House. And the least we can say is that it was worth it. The location is fantastic and the coffee good.
Enjoy a satisfying breakfast, lunch, or dinner at excellent value for money.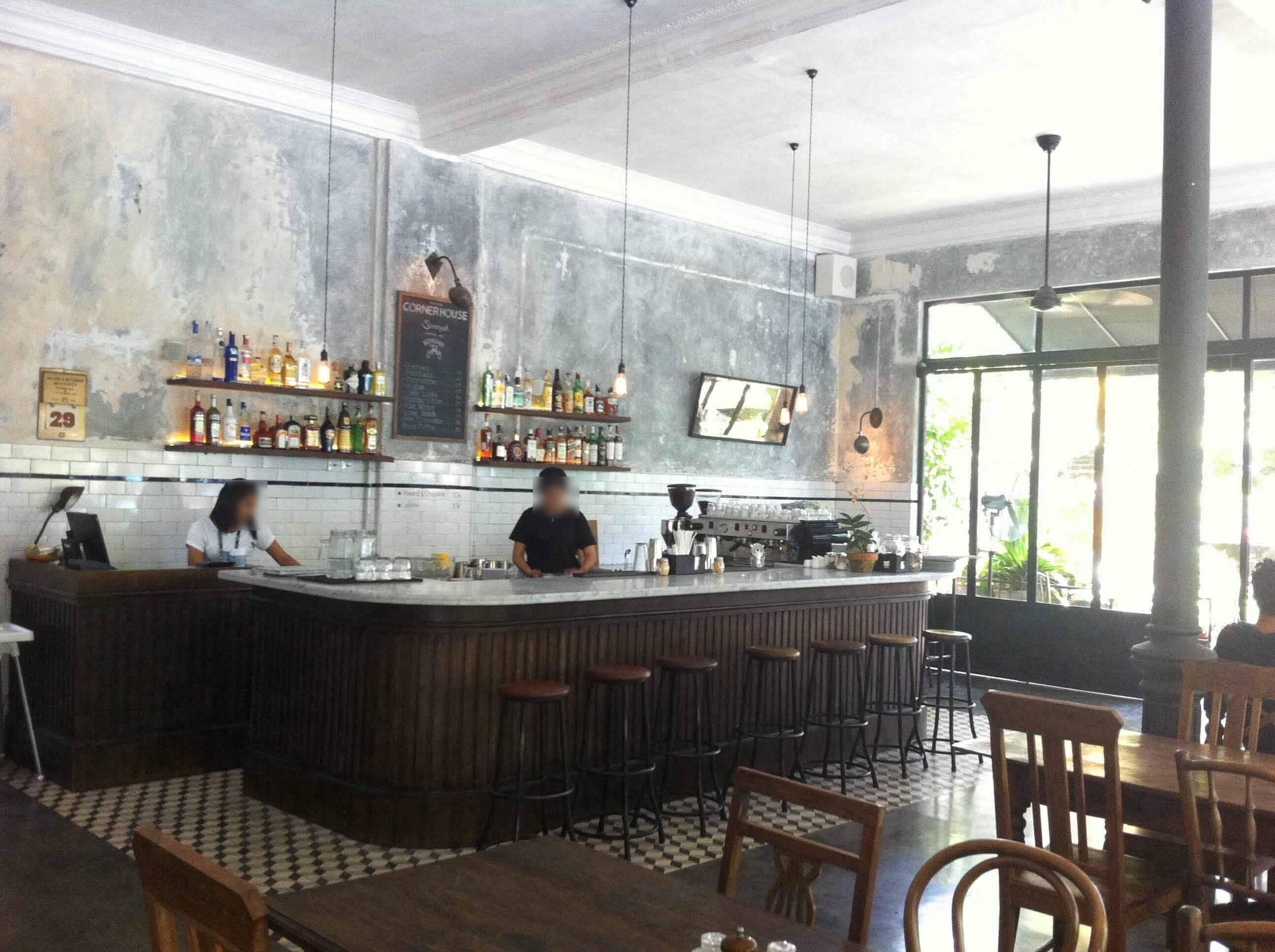 Website: https://cornerhousebali.com/
Reservation: WhatsApp
Esquina, Asian Mediterranean $$
Asian Mediterranean foods with good flavors. Waiters and waitresses at the top. The service nothing to say. Always smile and come to you regularly to find out if everything is going well. That's what we like in Bali. A bit pricey but justified given the quality of the dishes and the service, no waiting. Flawless!
Address: Jl Braban 82, Seminyak – Bali 80361
Website: Instagram
Reservation: https://www.chope.co/bali-restaurants/restaurant/esquina-bali-seminyak
Café Bali, $$
Very well located, this restaurant offers all types of food at reasonable prices. Nice decor. "Easy" cooking. A bit noisy in the evening. Cool service. Café Bali offers a very simple but varied menu. The service, very young, is really friendly and responsive! ULTRA ULTRA ULTRA fast service, very efficient staff 🙂
Cafe Bali, Seminyak : consultez 3 117 avis sur Cafe Bali, noté 4 sur 5 sur Tripadvisor et classé #143 sur 611 restaurants à Seminyak.
Sambal Shrimp, Seafood, $$$
Immerse yourself in the charm of a typical Balinese setting as you dine on the inviting terrace of Sambal Shrimp. In a typical Balinese setting and a really nice place on the terrace. The products are of high quality and the service is very professional and friendly.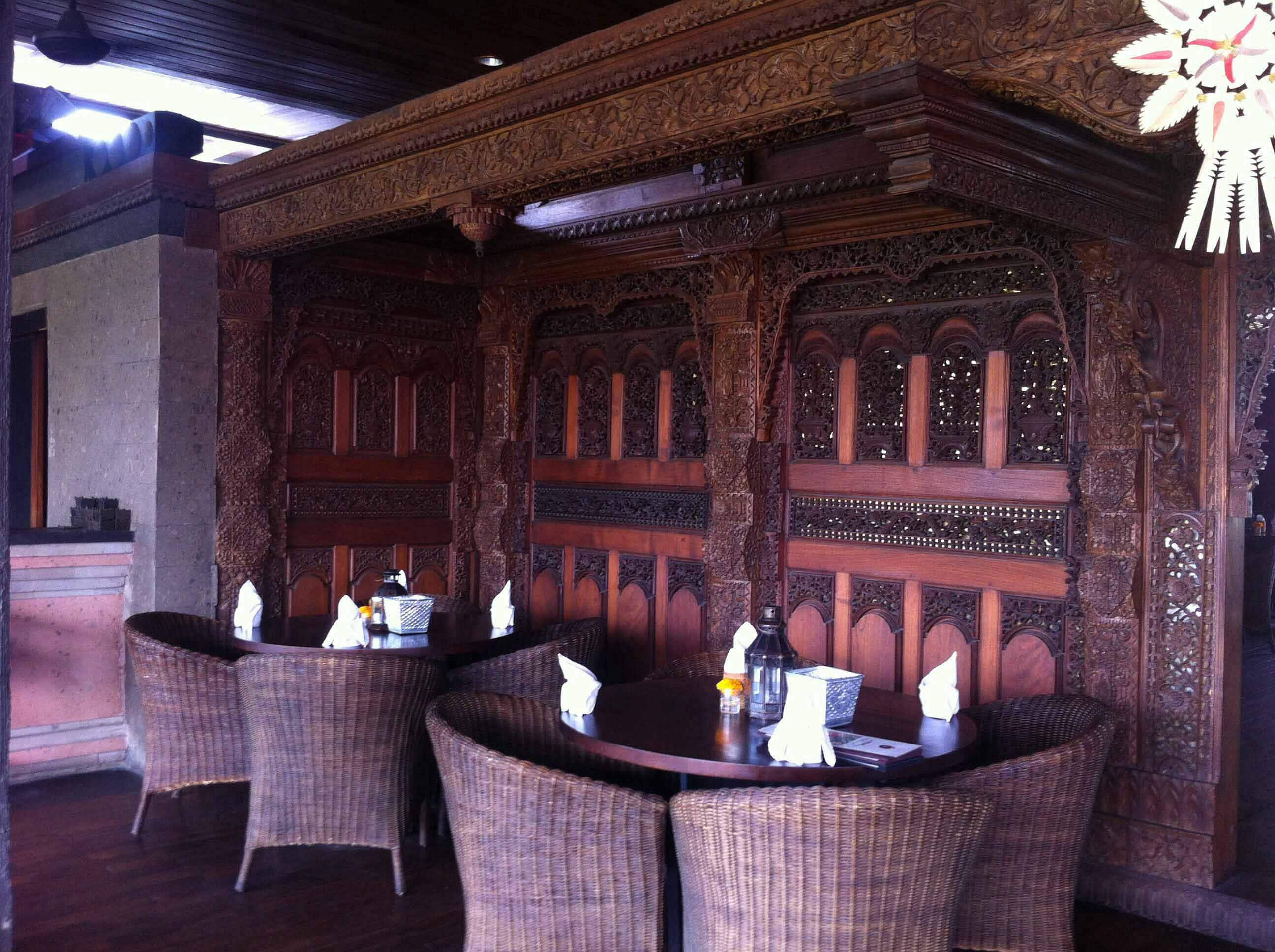 Website: https://www.sambalshrimp.com/
Reservation: Google reservation
Jackson Lily's, Asian fusion, $$
The restaurant's modern yet elegant decor adds a touch of sophistication to the overall atmosphere, making guests feel welcomed and well taken care of throughout their dining experience.
With its captivating ambiance, superb dishes, and delightful discoveries, this restaurant offers an experience you won't want to miss. Treat yourself to this culinary gem!

Jackson Lily's Restaurant offers an exquisite dining experience in Seminyak, Bali. Uploaded by Pinterpandai. Jackson Lily's Restaurant Seminyak, Bali, CC0, via Wikimedia Commons
Indulge in their tempting wok dishes and don't miss the mouthwatering 1-meter long Pizzas. For a lighter option in the tropical setting, they offer an array of refreshing salads and vegetable dishes.
And for those with a sweet tooth, their display of house-baked cakes and desserts will surely catch your eye.
A pleasant surprise awaits those with a penchant for unique beverages. Jackson Lily's takes pride in offering locally produced cider, adding to the flavors of Bali.
So, treat yourself to an extraordinary culinary adventure at this exceptional restaurant.
Get a free  alcoholic or non-alcoholic beverage, one drink per person here!
Website: https://jacksonlilys.com/
WhatsApp reservation: +6282134709170
Address: Jl. Raya Seminyak No.2, Seminyak, Bali 80361, Indonesia
Reservations: nowbookit.com
Restaurant Bambu, Indonesian, $$$
If you're looking for the perfect setting for a quiet evening, this is the place to dine. Crossing stones through a swimming pool to get to the dining room, a beautiful setting with a warm ambience. The food itself is a mix of international and Balinese cuisine, with local ingredients dominating the menu. Try the succulent duck betutu or the tangy tuna ceviche.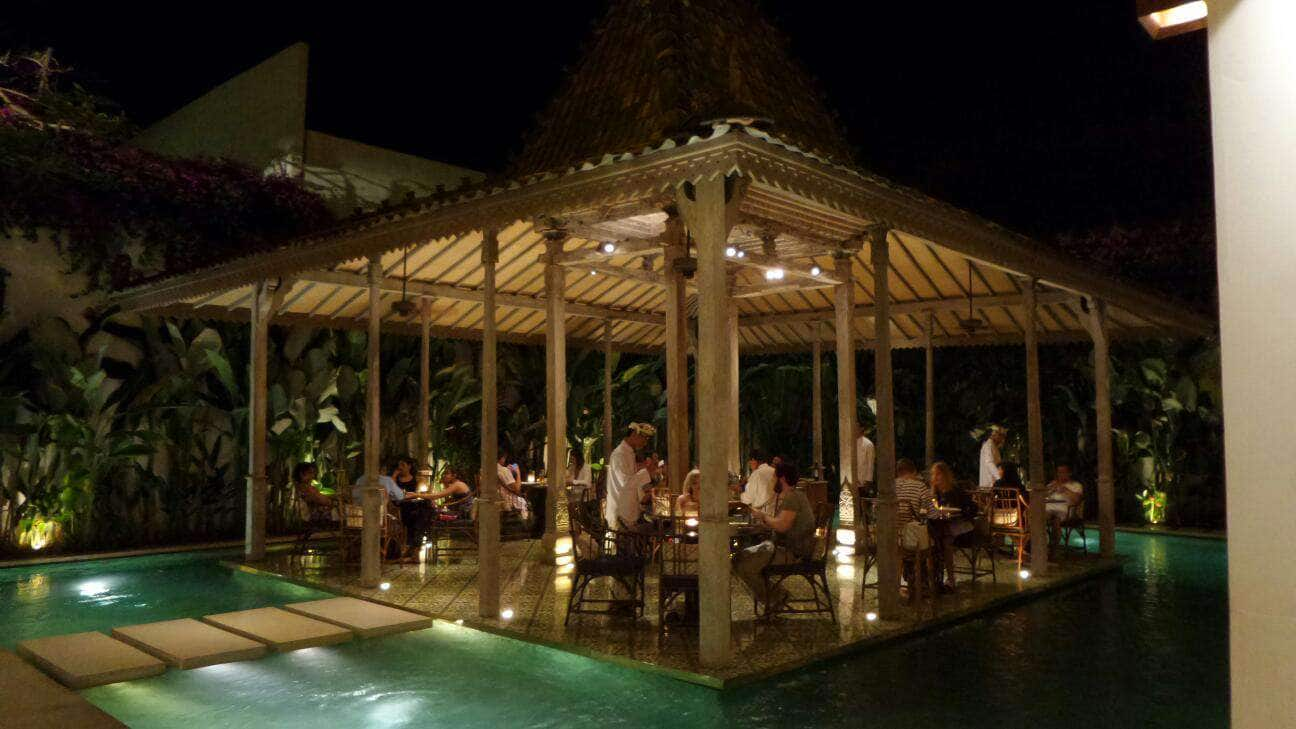 More Info Mon – Sun: 6:00 PM – 12:00 AM 198 Jalan Petitenget, Kabupaten Badung, Indonesia +623618469797
Website: https://bambubali.com/
Reservation: https://bambubali.com/booking/
Inquiry: via their WhatsApp
Cosy, Exterior Restaurant La Lucciola, Indonesian, $$$
La Lucciola is something of a legend in Seminyak, with waterfront views and a location next to the Petitenget Temple. The restaurant is always busy, and is usually packed until late at night. During the day, the beach gives access to the restaurant, while in the evening, it is accessed from the parking lot of the temple, via a wooden bridge lit by lit torches.
The menu changes constantly with every innovation the chefs undertake, but with an emphasis on traditional Balinese flavors.
More Info Mon – Sun: 9am – 11pm Pantai Petitenget Jalan Kayu Aya, Kerobokan, Kabupaten Badung, Indonesia +62361730838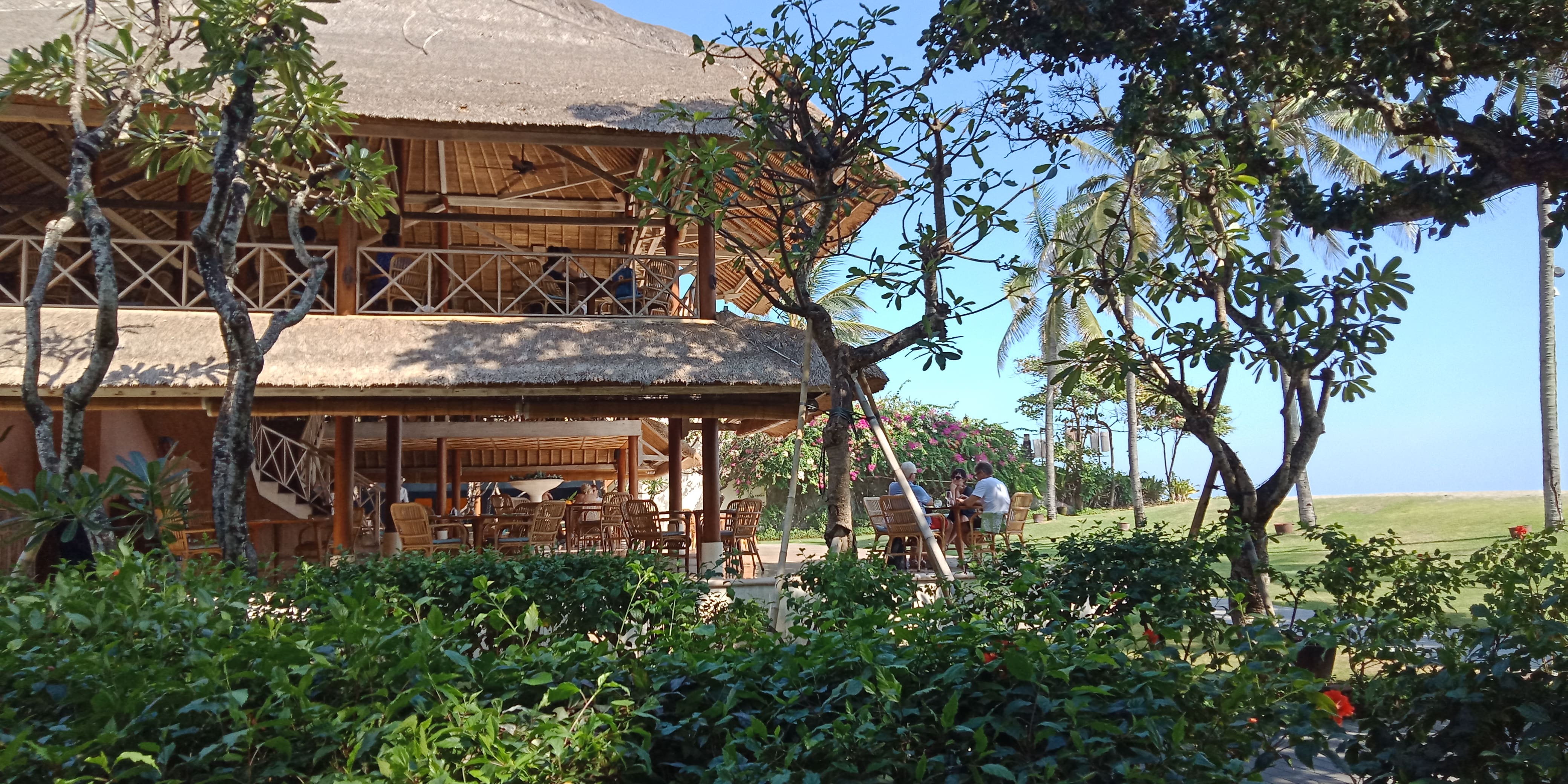 Cozy, Modern Bistro Mejekawi, Restaurant, Indonesian, $$$
Mejekawi is Ku De Ta's haute cuisine restaurant, Seminyak's nightlife beacon and the gathering point for Bali's 'happening' crowd. Its beautiful beachside setting combined with its bistro-style decor make it an attractive environment in which to sample Mejekawi's local and international cuisine. The restaurant serves two options; a set of seven or 11 dishes, each of which is prepared using precision cooking methods which can be seen through the open kitchen.
You can walk from our Villa Carissa to Kudeta, only 10 mn!

More Info Mon – Sun: 5:00 PM – 12:00 PM No. 9 Jalan Kayu Aya, Seminyak, 80361, Indonesia +62361736969 View Website
Casual Motel Mexicola Restaurant, Mexican, $$$
If you're looking for a taste of Tijuana in Bali, this is the place to get it. "More Mexican than Mexicans" is a good way to describe this place, with its shrine at the entrance to Mother Mary and multicolored tiles covering the walls. Food is a close match as well; Try fish tacos with chili mayo, donuts, burritos and, of course, tequila cocktails.
You can walk from our Villa Carissa to Mexicola, only 10 mn!
Indeed, stepping into this place, you'd swear you've been transported to a Mexican hacienda. The DJ caters to a diverse range of musical preferences. The entrance fee, a mere 10 euros per person, grants us admission along with a complimentary drink. The ambiance is nothing short of electric and guaranteed to leave a lasting impression.
More Info Mon-Sun: 11am – 1am Seminyak, 80361, Indonesia +62361736688 Visit Website
Reservation: https://motelmexicola.info/seminyak/bookings

Mexican Motel and Cafe in Seminyak. TuRbO_J from Adelaide, Australia, CC BY 2.0, via Wikimedia Commons
Mama San $$$
Located at the corner of Sunset Road and Raya Kerobokan, Mama San is one of the benchmarks par excellence in terms of gastronomy in Bali. The menu offers a large choice of diverse and varied dishes, ranging from spicy beef salad to steamed fish cooked in banana leaves. Asian-inspired, the cuisine offered is full of flavors and spices that are as surprising as they are pleasant. This restaurant is very popular in Seminyak, so it is advisable to book to be sure to have a table.
Address: Jalan Raya Kerobokan No. 135, Bali
Hours: Open for lunch and dinner (reservation recommended)
Contact: +62 (0) 361-730436 and reservations@mamasanbali.com or via WhatsApp +62 818 06126700
Ultrachic Bali restaurant captivates with contemporary interpretations of authentic Asian street foods July 22nd, 2014 One of Bali's most popular dining attractions since its opening in 2010, Mama San has garnered international recognition for the consummate renditions of authentic Asian street foods by acclaimed chef and founder Will Meyrick.
Vin + Seminyak Bali $$$
An excellent choice for a chic dinner, Vin + Seminyak is also a lounge bar. You can order a typical Italian dish and accompany it with the wine of your choice. This brand also has an adjacent boutique with a selection of over 18,000 wines.
Friendly atmosphere, very good selection of wine and top-notch meats.
Price: IDR 150,000 – 300,000 (14 – 27€)
Address: Jalan Kayu Jati No. 1, Seminyak, Bali
Hours: 10:00 a.m. – 11:00 p.m.
Contact: +62 361 4732377
Warung Eny, Bistro, Indonesian, $
One of the more low-key places you can go for authentic Balinese cuisine is Warung Eny. Its rustic and unremarkable appearance keeps the crowds away. If only they knew! The food is incredibly authentic, from grilled whole fish over coconuts to nasi goreng and even gato gato. Satay also tastes great, and if you have time, ask Eny for a cooking class.
More info Mon – Sun: 8:00 a.m. – 11:00 p.m. Seminyak, 11111, Indonesia +623614736892
Warung Eny, home of the Love Cooking School on the Petitenget Road, Seminyak. Ibu Eny and Wayan serve authentic fresh and organic foods to all comers. The kitchen is rustic, but it is a spotlessly clean family kitchen, it is a joy to sit and watch them prepare your meal, their respect for the food they prepare is second to none.
Made's Warung Seminyak $$
Indeed, Warung Made is an emblematic culinary establishment of Indonesian cuisine. The dishes are delicious and you can expect to find a rather extensive menu ranging from Gado-Gado to grilled fish, not to mention the babi guling (suckling pig) and other spicy rice.
The particularity of this warung and what makes, in part, its reputation, are the representations of the typical Balinese dances which one can attend while having dinner.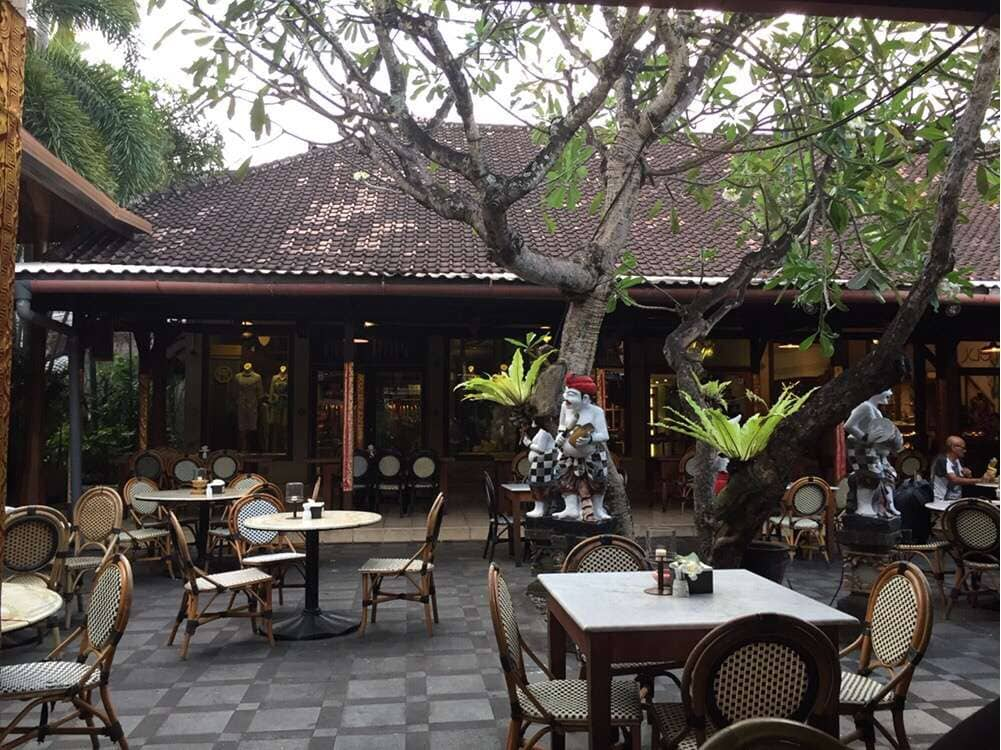 Price: IDR 90,000 – 200,000 (€8 – 18)
Address: Jalan Raya Seminyak, Seminyak, Bali
Hours: 9:00 a.m. – 12:00 a.m
Website: https://madeswarung.com/restaurant/seminyak/
Menu: https://madeswarung.com/restaurant/seminyak/menu-mades-seminyak/
Resevation: via WhatsApp
Have a drink while watching the sunset
Kudeta $$$
Incredible spot! Tailor-made service, excellent food quality, music at the top! Admittedly a little expensive but it is well worth the price given the quality!
This stylish beach bar is a lovely place. It has a classy and elegant atmosphere with a menu that is reasonably priced, similar to street-side options. The view of the Indian Ocean is stunning, and the atmosphere is truly wonderful.
Website: https://www.kudeta.com/
Reservation: via Google
La Plancha $$
A colorful bar with big beanbags to sit and sip a fresh juice (the banana juice is delicious) or a beer facing a breathtaking sunset. It was enough to seduce me! It must be said that the sunset over the sea is really breathtaking! Judge by yourself !
To watch the sunset, come relatively early to hope to have a table, because the place is very busy. But at worst, you can always fall back on another bar on the beach, the sunset will be the same!
Read also: Seminyak Beach | The ideal beach to see a wonderful sunset in Bali
Website: https://laplancha-bali.com/
Reservation: via Chope
Where to go out at night in Seminyak?
Red Carpet Champagne Bar $$
The red carpet is the theme of this champagne bar located on the busiest street in Seminyak with all the best restaurants, bars and shops in the area. Rather chic atmosphere and proper dress required. The prices are correct, the service efficient and you are right on rue de Oberoi so you can watch the excitement unfold before your eyes.
For a beer about IDR 50,000 (US$2.5) . For a glass of white wine around IDR 100,000 and cocktail around IDR 100,000 (US$ 6.50).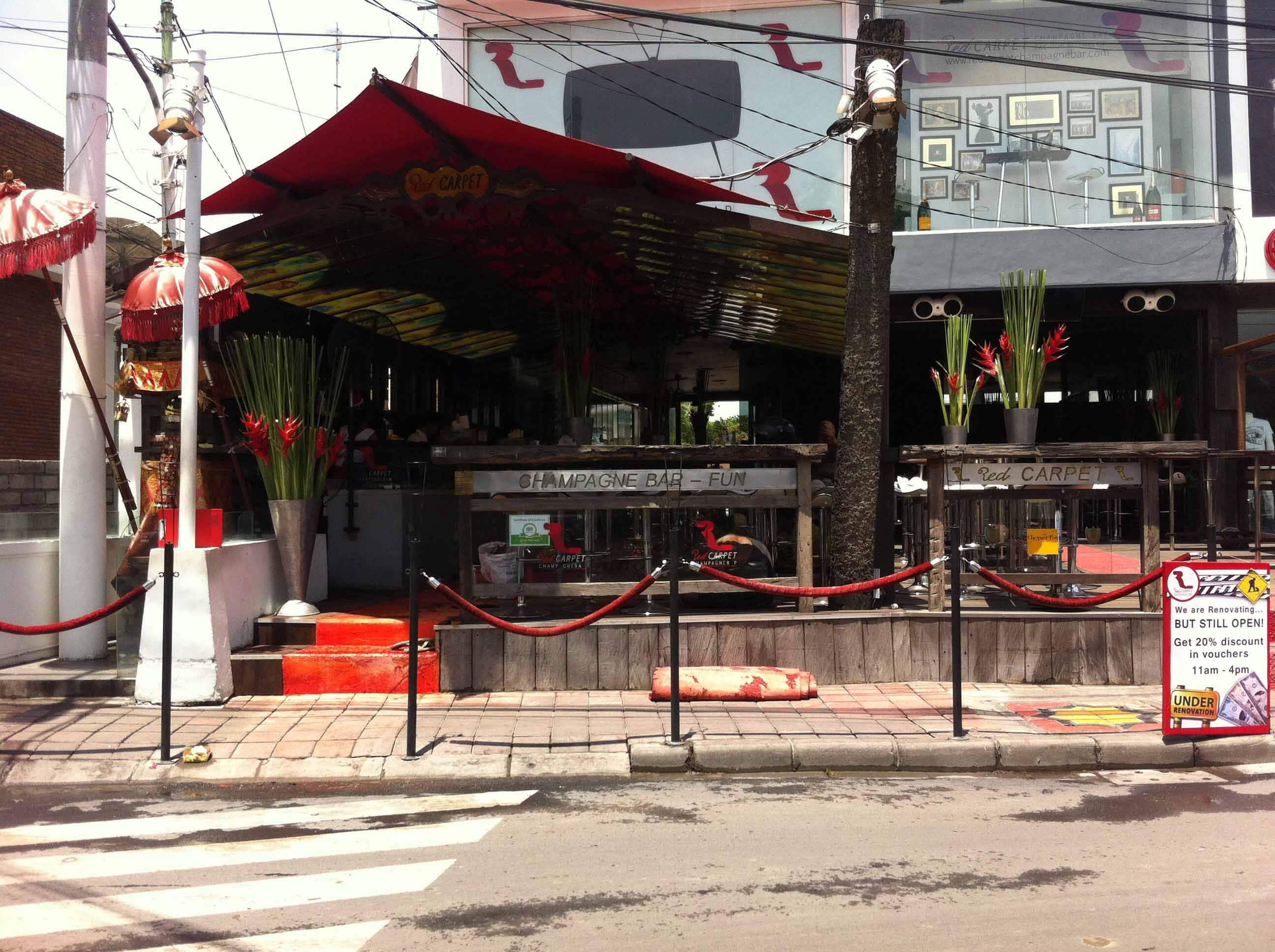 Address and Contact
Red Carpet Champagne Bar
Jl. Kayu Aya, Kuta Utara, Kabupaten Badung, Bali 80361
Website: https://www.redcarpetchampagnebar.com/
Tel: +62 361 737889
Reservation: via WhatsApp
Partying in Seminyak
Where to go out in Seminyak Bali: party at Mexicola in Seminyak
La Favela $$$
Behind a sall, narrow entrance that does not look like much hides THE nightclub not to be missed in Seminyak. Anyway, it's simple: everyone is there! Several rooms and dance floors await you. The decoration is surprising and eclectic as we like them! In the middle of the bar, the trees have made their way. We are far from classic nightclubs. You need to dressup to come here, no flip flops, no short pants for man.
Good to know: at dinner time (Western, Asian), the supercharged Favela turns into a restaurant where you can also have a drink.
Website: https://lafavelabali.com/
Reservation: via Chope
Menu: https://lafavelabali.com/menus/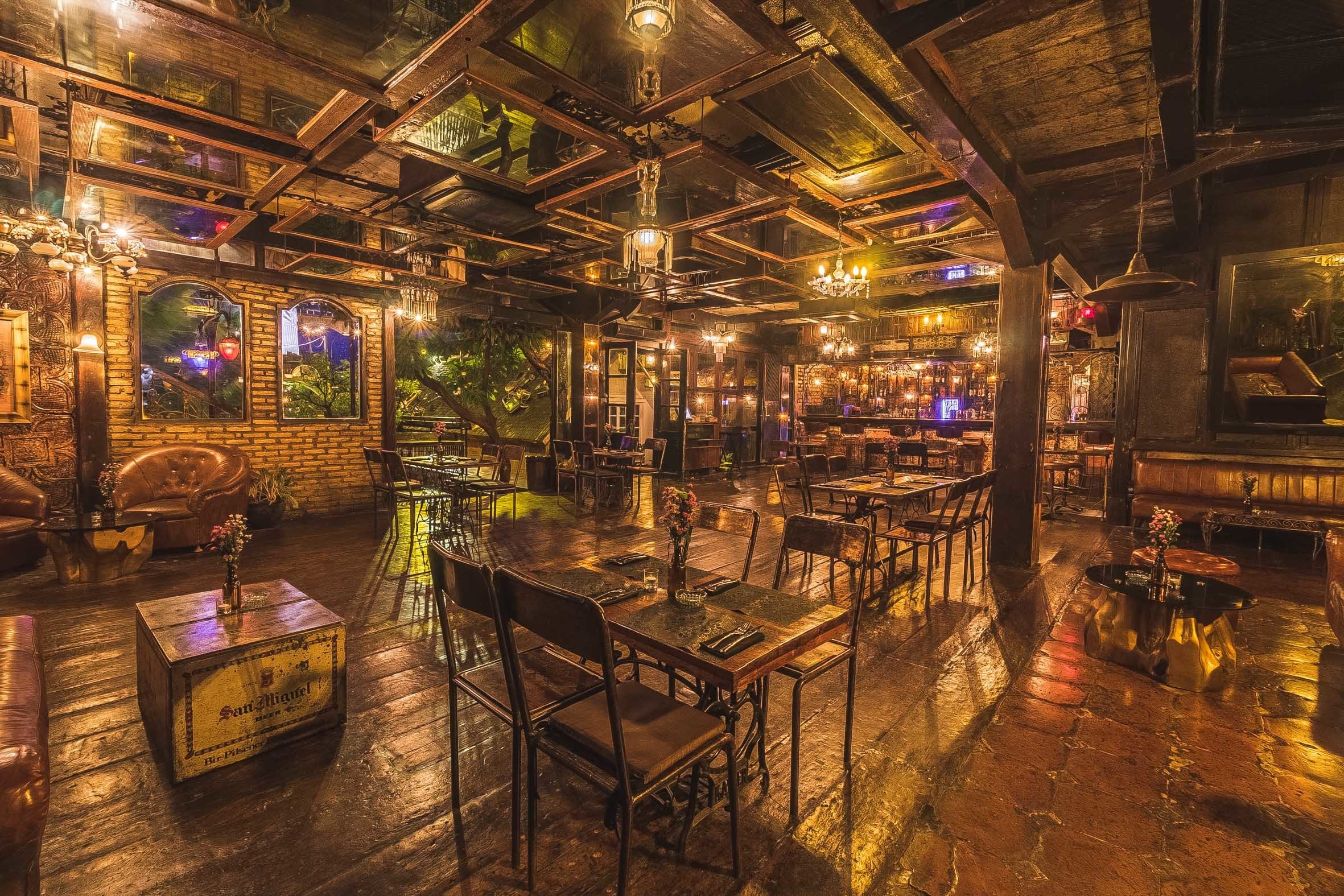 Mexicola $$$
This restaurant turns into a dance bar as soon as the service ends. Once the plates are cleared, people dance on the tables and the atmosphere is completely charged until 1am. The "dance floor" is located under a large glass roof. Watch out, it's going to be hot! Literally as figuratively ! An original place!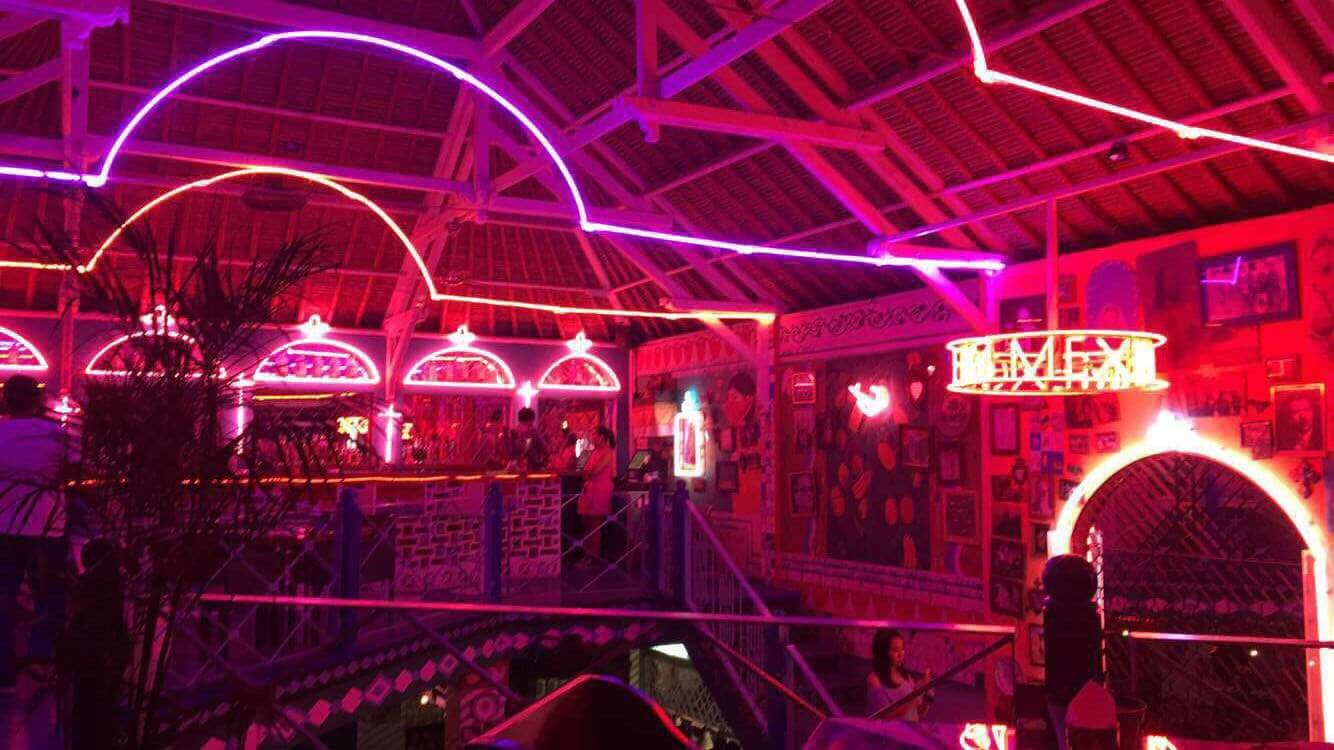 Address: JL Kayujati 9X – Seminyak, Bali 80361
Website: https://motelmexicola.info/
Reservation: https://motelmexicola.info/seminyak/bookings
Mirror $$$
It feels like a gothic cathedral with stunning stained glass windows and futuristic lasers piercing the dance floor. Welcome to the Mirror! In such an atmosphere, clubbers are completely immersed and often international sizes are programmed on the turntables. The music is very good and the place is not crowded (all things considered, we are still talking about a nightclub). Very friendly staff, which contributes to the good atmosphere of the establishment. Place not too crowded with locals and tourists.
Address: Jalan Petitenget No.106 Seminyak, Bali 80361
Website: https://allin.co.id/mirrorbali/
More info: via their WhatsApp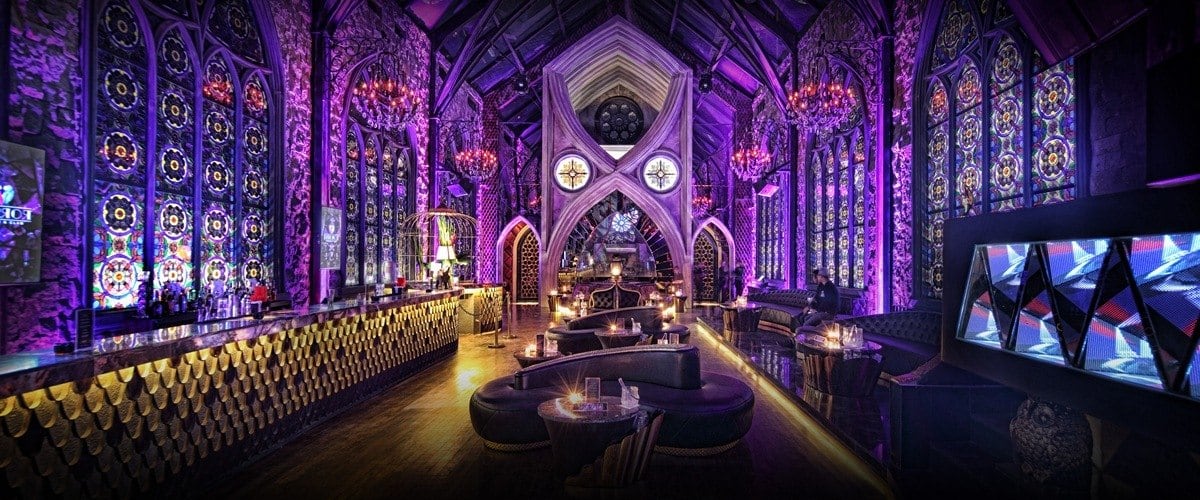 Jenja $$$ Permanently CLOSED 🙁
Jenja is the trendy club for going out in Bali. It is a bar-club located in Seminyak on the street that goes towards the Double Six beach. The atmosphere and the music are there and we often invite well-known DJs who know how to set the mood in the evenings. Address: Seminyak Town Square Suites Jl. Nakula Seminyak, Bali. You need to dressup to come here, no flip flops, no short pants for man.
Hours: 8:00 p.m. – 4:00 a.m.
Contact: +62 361 8469077
Read also: Seminyak Beach Club | Chic, Glamorous and Flashy | Perfect For Both Day and Night
Best Balinese Restaurants in Bali | Discover Bali's Culinary Gems
Restaurants in Seminyak (But not in the center)
Bambu $$$
This upscale restaurant offers fine Indonesian cuisine. The dishes here are cooked by professionals in the trade and it is a real success! The setting of the restaurant is an integral part of its charm since you will have the opportunity to eat on a small platform surrounded by water. The restaurant also belongs to the owner of La Lucciola, who, once again, succeeds in sublimating the typical dishes of Indonesian cuisine.
Address: Jalan Petitenget no.198, Seminyak, Bali 80361, Indonesia
Opening hours: Only for dinner (reservation recommended)
Contact: +62 (0) 361-8469797 and enquiries@bambubali.com
Website: https://bambubali.com/
Reservation: https://bambubali.com/booking/
Inquiry: via their WhatsApp
Founded by the owner who created La Lucciola, the Bambu restaurant Bali in Seminyak focus on traditional Indonesian cuisine. Classic Indonesian With a strong expertise in classic Indonesian cuisine, Bambu is the right place to eat chicken sate, spicy sambal or jackfruit curry.
Merah Putih $$$
The Merah Putih is a must-see place in Bali. The cuisine is family-run and the portions are quite generous, all cooked with Indonesian sauce. Reservations are not (yet) necessary, and we urge you to come and discover this place that has received so many rave reviews.
Address: Jl. Petitenget No.100x, Kerobokan, Seminyak, Bali
Opening hours: Every day, 12:00 p.m. – 3:00 p.m., 6:00 p.m. – 11:00 p.m.
Contact: +62 (0) 361 8465950 and info@merahputihbali.com
Website: https://merahputihbali.com/
Reservation: https://merahputihbali.com/booking/
Celebrating Indonesia's finest cuisine, culture, craftsmanship & people, Indonesian classics are served along side creative dishes that experiment with traditional spices & flavours from across the archipelago.
Warisan $$$ (located inside Warisan LIVING – Furniture Showroom)
The Warisan is located a bit apart from other restaurants in Seminyak, but once inside, you'll understand why the drive was worth it. There is a sweet culinary mix between French, Mediterranean and Indonesian cuisine. An interior courtyard has been set up with elegant tables laid out and laid out with care.
The place is perfect for a candlelit dinner with its romantic atmosphere, live music and refined dishes. For the starter we recommend the ravioli with lobster bisque or the confit salmon, a delight!
Address: Jl. Raya Kerobokan No. 38, Br. Taman, Kuta, Bali
Opening hours: Monday to Saturday: 11 a.m. – 11 p.m. | Sunday: 4:00 p.m. – 11:00 p.m.
Contact: +62 (0) 361 731175
Website: https://www.warisan.com/
Warisan Restaurant located in Kerobokan Area upper class restaurant with western type menus. The restaurant is founded in 1991. Warisan Restaurant is everything you want for the ultimate dining experience on Bali; seamless dining under the shade of fragrant Frangipani trees or lazily on oversized plump sofas next to an excitable, well stocked bar – all paddy field breeze kissed.
Fine Dining / Gourmet restaurant in Seminyak
In this article we will tell you about the crème de la crème of restaurants in Seminyak, those that are known, recognized and appreciated throughout the region. In general, the prices are a little higher than average, but they are still quite reasonable if you have fun comparing them to those of restaurants of an equivalent standard in Europe. All you have to do is make your choice.
Read also: Bali Fine Dining Restaurants | Unveiling Bali's Exclusive Gastronomy: Indulge in the Finest Dining Experiences
Léon Brasserie $$$$$
This French restaurant offers excellent dishes in a magnificent setting. It serves refined cuisine, French wines and cheeses in an authentic Balinese environment. The advantage of this magnificent place is that it is as pleasant to eat there with friends, as a couple or on a business trip, as it is to drink a few cocktails in the lounge area directly overlooking the rice fields.
An exquisite journey of purity, refinement, and heritage, guided by the timeless flavors of French cuisine.
The Léon effortlessly accommodates special events and large group gatherings, preserving the intimate atmosphere both in the garden and indoors. Additionally, on every weekday lunch (excluding weekends), a special menu is available, featuring a delightful selection of starters, main courses, and desserts.
Address: Jl Raya Bumbak 115 , Umalas, Kerobokan, Bali, Indonesia
Hours: Restaurant: 17:30 – 23:00. Bar 17:00 – Onwards
Website: https://www.leonbali.com/
Reservation: https://www.leonbali.com/reservations/
Inquiry: via their WhatsApp
Sardine $$$$
This popular restaurant is run by a French couple. Sardine is known for its innovative cuisine essentially based on seafood. Its menu changes daily and promises fresh and tasty products. The architecture made of bamboo is completely open to the outside and offers an absolutely incredible view of the rice fields and banana trees. A very pleasant setting and a refined decor! It is an environment that you will appreciate as much for dinner and lunch as for having an aperitif with friends. Do not hesitate to ask the chef for his suggestion of the day, he will be more than happy to advise you.
The establishment offers a bar/lounge area with a generous drinks menu.
The architecture and decoration of the restaurant reflect the local spirit with its bamboo furniture and the unobstructed view of the rice fields brings a special atmosphere to the place.
Address: Jalan Petitenget No. 21, Kerobokan, Bali
Hours: 11:30 a.m. – 1:00 a.m. (last order at 11:00 p.m.)
Contact: +62 811-3978-111 and sardine@sardinebali.com
Sources: TripAdvisor
Photo credit (main picture): mtommartin via Pixabay
Indulge in Romance: The Most Romantic Dining Experiences in Seminyak, Bali | Fine dining atmosphere
Bali Fine Dining Restaurants | Unveiling Bali's Exclusive Gastronomy: Indulge in the Finest Dining Experiences
---
Ready to book your villa in Seminyak center?