Villa Carissa a private Villa in Seminyak, with Swimming Pool
Why rent a villa in Seminyak? For those who wish to stay in the 'downtown' of the island, we have selected traditional and fusion villas in the heart of Seminyak. Are you looking for a well located villa in Seminya? To be sure of having the perfect holiday in Bali, Villa Carissa is one of the best villas in Seminyak and one of the the best destination for your Bali villa rentals.
Seminyak is a former favorite seaside resort of surfers in the 70s has become over the decades the gathering place for restaurants and the most beautiful shops. Although it is part of the agglomeration of Kuta, which is nonetheless a chic and charming place where there are sumptuous villas for rent in Seminyak.
Seminyak is renowned for its many merchants: between department stores and small designers, for its famous restaurants throughout Asia but also for these magnificent villa rentals in Seminyak. As you will have understood, Seminyak is lively and dynamic and remains the destination of choice if you want to mix idleness, shopping and partying. Bask in a solarium on the beach of Seminyak also called the 'Double Six' while sipping a fresh coconut or tasty cocktails.
Learn to surf and go listen in the evening at sunset to many musical groups close to your villa rental in Seminyak. Unearth small designers from all over the world who have come to settle in Bali: ready-to-wear, jewellery, leather goods and even antique dealers, there is something for everyone! Let yourself be tempted by one of the many renowned spa centers all over the island for a pure moment of well-being and relaxation.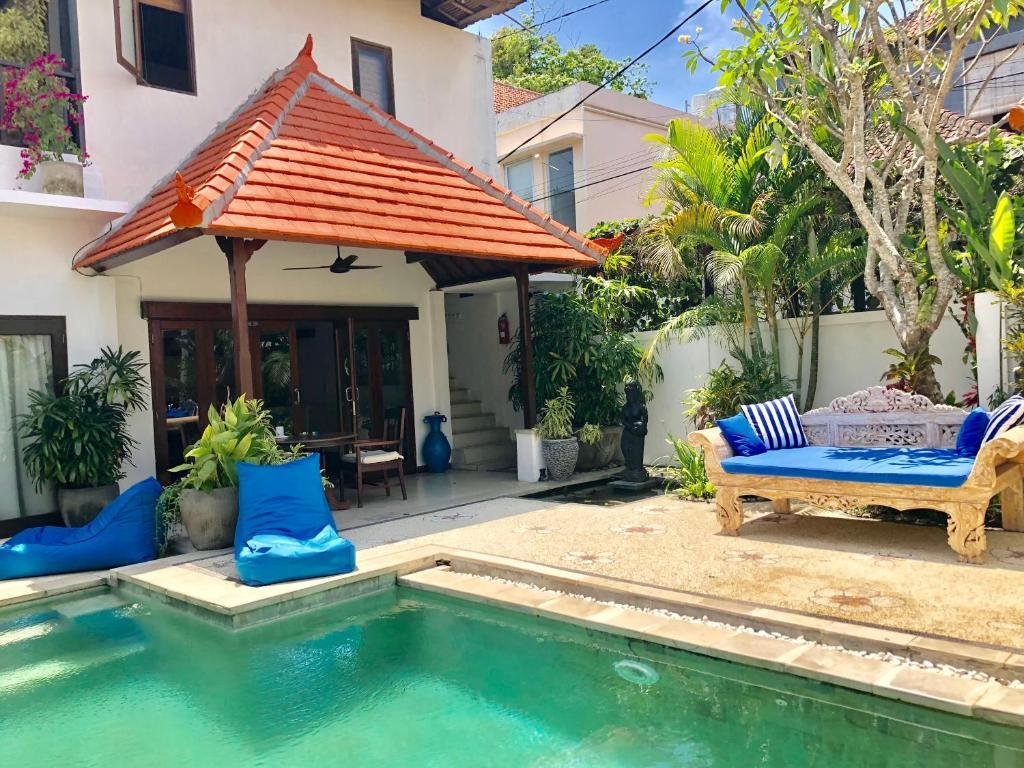 Villa Carissa, 3 bedroom private pool villa in Seminyak Center
The modern Balinese-style Villa Carissa is located in the heart of Seminyak, offers a private outdoor pool, an enclosed garden for your privacy and a sunny terrace.
It is a very happening area with many attractions, restaurants, bars, various shops, spas or even nightclubs. Close to all amenities and places to relax and have fun, the beaches are accessible even on foot which makes this area very attractive!
Villa Carissa has 3 air-conditioned bedrooms and 3 private bathrooms. All rooms come with a personal safety box.
Includes an equipped kitchen with stove, fridge and microwave. For your comfort, you will enjoy a dining area overlooking the pool.
Complimentary breakfast will be personally prepared in your villa at your preferred time each morning between 7 am and 11 am.
Relax in this stunning 3-bedroom pool villa with lush garden, located in the heart of cosmopolitan Seminyak, just 2 mn walk from Jalan Laksmana (Eat Street, recently renamed Jl. Kayu Aya). It doesn't get more central than this! Located a few meters from the most exciting restaurants, spas and shops of the island and a stone's throw from the beach, Villa Carissa is the ideal place to discover the magical atmosphere of the tropical region of Bali. Location, location, location!
3 Bedrooms at Villa Carissa
The Villa Carissa features a bright and spacious master suite designed modernly with traditional Balinese touches. Providing cool air-conditioned room, comfortable and relaxing space to unwind after a long day of adventures.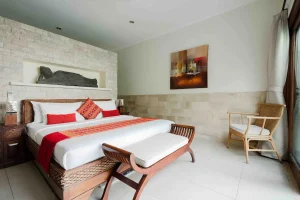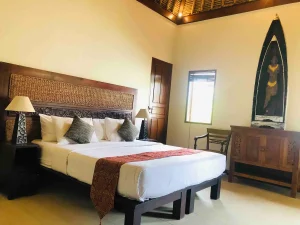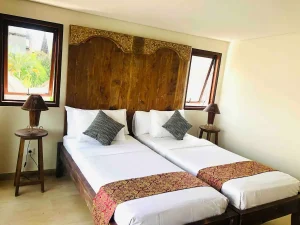 The private bathroom of the bedroom is one of the strong points of the villa with its magnificent bathtub in the room downstairs. Ideal for a relaxing soak or a fun flower bath, bask in the luxury of the warm, deep waters with a book or meditative music. Also featuring a rain shower and modern amenities, the en-suite bathroom brings an extra touch of extravagance to The Villa Carissa.
Outdoor spaces
Villa Cariisa has a private terrace and out-door private pool providing a relaxing and sunny spot to spend a lazy day. Whether you like to enjoy the sun or hide in the shade, the terrace is able to meet everyone's needs. You can stand in the pool or lay back for an afternoon siesta. It's the perfect intimate villa extension for spending some quality one-on-one time with your loved one in a tropical paradise.
Interior spaces
The enclosed living room of Villa offers a cool escape from the Bali sun. Filled with colorful decor and Balinese touch, it's a contemporary space to spend tropical evenings dining on delicious local delicacies.
The equipped kitchenette is ideal if you are looking to prepare homemade meals or snacks throughout your trip. Serve your treats on the dining table or order from the room service menu to sample dishes cooked by the in-house chefs. The quaint living room features a relaxing sofa, perfect for kicking back with your favorite book. Surrounded by windows, the room fills with natural light while allowing you to enjoy the magnificent view of the garden and the sea.
Staff and services
Villa Carissa managed by a team of friendly and dedicated staff. With housekeepers and security, you can rest assured that you are in safe hands. Offering uncompromising service to help arrange additional services such as chefs, spa treatments and tour drivers, the team wants to ensure you have the most memorable trip. Read also: Seminyak Center long term rental Villa Carissa 3-bedroom
Seaside Villa in Seminyak
During your stay in Bali, Villa Carissa is ideal for beautiful evenings with friends with drinks around the pool or on the balcony. You can easily prolong the party in the various bars and nightclubs around.
The main living room is a large open space combining kitchen, dining room and living room, spacious enough to accommodate 7 people (see our room configurations). In the garden, the downstair bedroom offer a view of the swimming pool. Each bedroom has its own bathroom. The bathrooms are closed and it invites you to relax. The modern-traditional architecture is great. The roofs in alang alang (Indonesian thatch) bring an incredible height under ceiling.
Every morning, the villa attendant and serves your breakfast. If you want to organize a special dinner, call on a chef who will come and cook directly at your villa. This villa has all the assets to make you spend an original and exceptional stay with several people.
Located in the tourist town of Seminyak, you are close to all amenities, directly accessible on foot: beach, shops, restaurants, nightlife… It takes about 20 minutes by car to reach your villa from the airport.
This seaside town is often described as "bobo chic". Discovering Bali is possible with a private driver for the day. Live unforgettable experiences such as rafting on the river in the middle of the jungle or an elephant back safari in a beautiful wooded park.
It takes 10 minutes to reach the KUDETA beach on foot. In the surrounding streets, many spas invite you to relax. It is not excluded to leave for the day with a private driver to discover the sumptuous landscapes of the island of the gods. Please Google our address to see more of the surrounding streets: https://g.page/villacarissa
Beaches in the neighbourhood
Petitenget Beach: 650 m (0.40 miles)
Seminyak Beach: 650 m (0.40 miles)
Double Six Beach: 800 m (0.49 miles)
Batu Belig Beach: 900 m (0.55 miles)
Legian Beach: 1.6 km (0.99 miles)
---
Ready to book your villa in Seminyak center?
Located in Center Seminyak – Bali, Villa Carissa offers a private swimming pool and enclosed garden to guarantee your privacy. You can book your private pool villa here with us.
---