Services and Amenities at Villa Carissa – Seminyak
Find out our multiple services and amenities at Villa Carissa at your disposal:
Property
Welcome to this exquisite property that boasts a range of exclusive features to ensure your utmost privacy and comfort:
√ Private terrace: step out onto your own secluded terrace, where you can enjoy the tranquil surroundings and soak in the breathtaking views.
√ Private outdoor swimming pool: take a refreshing dip or simply unwind by our private swimming pool, offering a secluded oasis for relaxation.
√ Private garden: experience the beauty of nature in your own private garden, an idyllic space to unwind and connect with the serene outdoors.
Indulge in the utmost privacy and freedom at this stunning property, where every element is thoughtfully designed to create a haven of relaxation and bliss.
Living room
√ Comfortable seating (sofas, armchairs)
√ Coffee table
√ Air conditioning
√ Ceiling fan
√ TV (cable/satelite with local and international channels)
√ DVD player
√ Free wireless wifi (fiber optic)
√ Throw pillows
Kitchen and dining room
√ Air conditioning
√ Ceiling fan
√ Kitchen stove
√ Microwave
√ Blender
√ Fridge and Freezer
√ French press coffee maker
√ Kettle
√ Toaster
√ Dining table and chairs
Bedrooms
√ Air conditioning
√ Ceiling fans
√ Linens provided
√ Towels provided
√ Hair dryer
√ Iron
√ Ironing board
√ Soap/shampoo provided
√ Safety box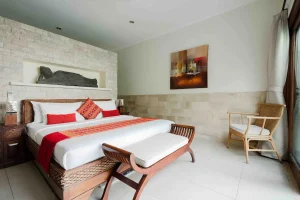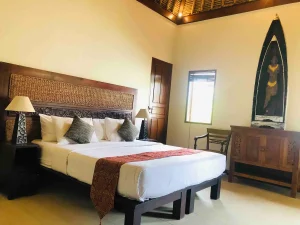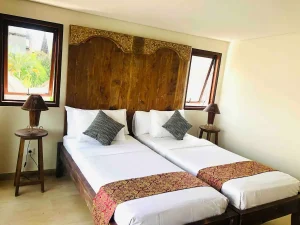 Other services
√ Daily housekeeping
√ Complimentary breakfast will be personally prepared in your villa (menu)
√ Complimentary floating breakfast
√ Pool / beach towel provided
√ Umbrellas
√ 1 Baby cot available (free)
√ 1 High chair available (free)
√ Laundry (extra cost)
Free Fiber Optic Internet Connection
Fast internet connection with fiber optic internet connection @VillaCarissaBali and no more long waits to upload or send large files.
We have implemented fiber optic technology for our villa's WiFi connection, ensuring fast and uninterrupted browsing. Now, you can effortlessly share your beautiful Bali pictures with friends and family in a flash! Enjoy a hassle-free internet experience during your stay, and make the most of your time in paradise.
Whether you're travelling for business or for leisure – or combining both – you have access to the latest technologies throughout your stay, We implemented the optic-fiber for the villa's wifi connection! It is an internet connection (wifi) which allows ultra fast navigation in peace and especially high speed. Enjoy to send your beautiful pictures of Bali to all your friends and family 🙂
Breakfast at Villa Carissa
Begin your mornings with a delicious breakfast at Villa Carissa.
Our delightful spread offers a range of tasty options to kickstart your day in paradise.
With each bite, savor the flavors of Bali while being embraced by the warm hospitality of our dedicated staff. Whether you prefer local delights or international favorites, our breakfast spread is designed to satisfy all tastes, ensuring you start your day on a perfect and delicious note.
Free Floating breakfast
Forget breakfast in bed! Begin your day on a positive note with a breakfast like no other. Relax in the comfort of your private pool and we'll serve your breakfast selections on a floating tray. Free floating breakfast during your stay.
Read more: Breakfast at Villa Carissa Bali | Menu and Floating Breakfast
Free à la carte Breakfast
Complimentary breakfast will be personally prepared in your villa at your preferred time each morning between 7 am and 11 am. Daily Breakfast includes: Fresh tropical fruit juice of the day, Fresh tropical fruit platter, Tea or Coffee. Plus you may choose a hot dish!
Extrabed
1 Extrabed can be placed in room n° 2 (upstairs) at extra cost.
Photo credit: Piqsels
---
Book Your Private Villa with Pool in Center Seminyak – Bali
Our private villa boasts a serene swimming pool and enclosed garden, ensuring your utmost privacy during your stay. Secure your booking for this exclusive pool villa now.
Discover our seasonal specials and promotions to make your stay at Villa Carissa even more memorable. Find out more about the enticing offers we have in store for you.
---