FAQs about Villa Carissa Seminyak Centre with Private Pool
If you're planning a trip to Bali and looking for a luxurious and private accommodation option, Villa Carissa Seminyak Centre with Private Pool is a great choice. You can find our FAQs about Villa Carissa, here. If you c'ant find them, please kindly contact us. Here are some common FAQs about this villa:
Quick FAQs about Villa Carissa | General information
General information
√ Check-in : 14:00 – 00:00
√ Check-out : 06:00 – 12:00 noon
√ Free fiber optic WiFi
√ Enclosed garden
√ Non smoking (you can smoke outdoor only)
√ Patio
√ Safety box in each room
√ Television Sony KD65X7500F (65″)
√ Air conditioning and fan in all bedrooms and living room.
√ Private swimming pool
√ Free breakfast
√ Closed living room (flexible open and closed living)
√ Villa of 220 m² (2368 sf²)
√ Kitchen
√ 1 Baby cot (crib) Nuna SENA™ aire
√ 1 Baby high chair for feeding older babies and young toddlers
√ The closest airport to get to get to our villa will be Denpasar Bali airport (DPS)
What are the check-in and check-out times at Dream Villa Carissa Seminyak Centre?
Check-in at Dream Villa Carissa Seminyak Centre is from 2:00 PM, and check-out is until 12:00 PM (noon).
Check-in instructions
Host greets you.
Our Villa Manager number (WhatsApp): +628113526000 For smooth check-in please kindly give information your approximative check-in time (or your flight details). Thank you.
Booking payment method
You can pay your booking securely with PayPal.
What payment methods can I use with PayPal?
With PayPal, you can use the following payment methods:
Your bank account.
Your Visa, Mastercard, Discover, or American Express card.
Is there a private pool available to guests staying at Dream Villa Carissa Seminyak Centre?
Yes, there's a private pool. You can find out more about this and the other facilities at Villa Carissa on this page.
Where is Villa Carissa located?
Our location is in Seminyak Centre.
Is the villa located near attractions?
Yes, the villa's central location provides easy access to Seminyak's vibrant shopping, dining, and entertainment venues. The beach is also a short distance away.
How close to the beach is Dream Villa Carissa Seminyak Centre?
The nearest beach is Kudeta, which is 900 m (0.5 mile) or a 10-minute walk from Villa Carissa Seminyak Centre.
How far is Villa Carissa Seminyak Centre from the center of Seminyak?
Our villa is located in the heart of Seminyak. When you go out from the main entrance, turn right. Walk around 1 minute and you'll arrive in the city centre of Seminyak.
Things To Do in Bali and What to Visit, Where To Go While Vacationing in Bali? (Top Attractions)
What kind of breakfast is served at Dream Villa Carissa Seminyak Centre?
Guests staying at Dream Villa Carissa Seminyak Centre can enjoy a highly-rated breakfast during their stay (guest review score: 9 from 10, according to Booking.com).
Breakfast option(s) include:
Continental
Asian
American
À la carte
Daily Breakfast includes: Fresh tropical fruit juice of the day, Fresh tropical fruit platter, Tea or Coffee. Plus you may choose a hot dish!
Complimentary breakfast will be personally prepared in your villa at your preferred time each morning between 7 A.M. to 11 A.M.
Floating breakfast experience
Must try romantic morning breakfast. Forget breakfast in bed!
Start your day in style and indulge yourself to unforgettable floating breakfast experience at the comfort of your private pool at Villa Carissa.
Please read: Breakfast at Villa Carissa Bali | Menu and Floating Breakfast
Green best-practices at the Villa Carissa
We are trying to reduce our environmental impact through green best-practices in maintenance, services, logistics, products, and supplies. The core elements revolve around reducing waste, saving energy, and cutting down on water usage in our property.
Please kindly help us by reducing your impact on the environment (Customer Eco-friendly Attitudes):
Your willingness to reuse linen/towels. To do our part to help the environment, we will change your bed linens and towels after every four nights of your stay.
Use the air-conditioning controls conservatively.
Turn off lights and electronic/electrical appliances whenever you don't use them.
Reaching out to our local businesses—especially farmers, food producers, and artisan creators, it may reduce your carbon footprint while significantly improving your offer.
Please read: Local Sustainability Projects in Bali | Inspiring Initiatives
Is Dream Villa Carissa Seminyak Centre popular with families?
Yes, Dream Villa Carissa Seminyak Centre is popular with guests booking family stays.
How do I get to Dream Villa Carissa Seminyak Centre from the nearest airport?
From the nearest airport, you can get to Dream Villa Carissa Seminyak Centre by:
Taxi around 25min.
Villa Carissa is a 20-minute drive from Bali Ngurah Rai International Airport. Please Google it: https://g.page/villacarissa
Read also: Bali Airport PickUp, Drop-Off Service, Excursion, Travel and Transportation Services at Villa Carissa
How many bedrooms does have Dream Villa Carissa Seminyak Centre have?
Dream Villa Carissa Seminyak Centre has the following number of bedrooms:
3 bedrooms
Room 1 (downstairs): The bed in this room is set as a double bed and cannot be changed.
Room 2 (upstairs): Would you prefer the bed in this room to be split into twin beds?
Room 3 (upstairs): The bed in this room is arranged as two single beds. While we cannot change this setup, we are more than happy to move them closer together if needed.
1 extra bed can be installed in the 2nd bedroom only.
For more detailed info, check the accommodation option(s) breakdown on this page.
Bedrooms
√ Air conditioning
√ Ceiling fans
√ Linens provided
√ Towels provided
√ Hair dryer
√ Iron
√ Ironing board
√ Soap/shampoo provided
√ Safety box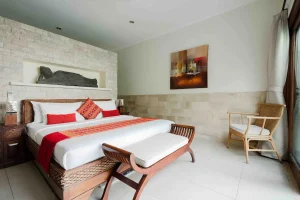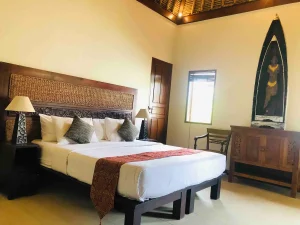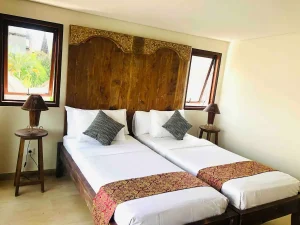 How many guests can sleep at Dream Villa Carissa Seminyak Centre (maximum capacity)?
FAQs about Villa Carissa Seminyak Centre can accommodate this group size:
7 guests maximum.
For more detailed info, check the accommodation option(s) breakdown on this page.
Does Dream Villa Carissa Seminyak Centre have a balcony?
Yes, there is a balcony on the upstairs bedrooms.
Does Dream Villa Carissa Seminyak Centre have a pool?
Yes, our villa has an outdoor private pool. For details about the pool and other facilities, please see the information provided on the page below.
Does Dream Villa Carissa Seminyak Centre have a terrace?
Yes, there is a terrace at this property. You can find out more about this and the other facilities at Dream Villa Carissa Seminyak Centre on this page.
What is there to do at Dream Villa Carissa Seminyak Centre?
Dream Villa Carissa Seminyak Centre offers the following activities/services (charges apply): laundry / drycleaning, travel and tours in Bali on this page.
How much does it cost to stay at Dream Villa Carissa Seminyak Centre?
The prices at Dream Villa Carissa Seminyak Centre may vary depending on your stay (e.g. dates, villa's policy etc.). To see prices, enter your dates on this page.
Smoking policy
To maintain a pleasant environment for all our guests, smoking is not permitted in the lounge/sofa area and inside the bedrooms.
However, we have designated outside areas, such as the balcony, poolside, and terrace, where smoking is allowed.
When using these outdoor smoking areas, we kindly request that you keep all doors shut to prevent any smoke smell from entering the bedrooms or living room.
Your cooperation in this matter is greatly appreciated. Thank you for helping us ensure a comfortable stay for everyone.
Private swimming pool at Villa Carissa
Villa Carissa offers a private swimming pool for guests to enjoy during their stay. The pool is a refreshing oasis, perfect for relaxation and leisure. You can take a refreshing dip, bask in the sun on the pool deck, or simply unwind by the water's edge.
The pool area is designed to provide privacy, allowing you to have a peaceful and enjoyable time with your loved ones. Whether you want to cool off after a day of exploration or simply soak up the tropical ambiance, the private swimming pool at Villa Carissa is here to offer you a delightful experience during your stay.
Nearby restaurants, cafés, pubs and shops
Many good restaurants, cafés, pubs and shops nearby:
1 mn walk: Ultimo (Italian), Italian Job, Rumors (European, Asian).
3 mn walk: Café Bali, Batik (European, Asian), Italian Job.
10 mn walk: La Favela (European, Asian) after 8-9 pm it turns out to be a cool place for clubbing!
10 minutes walk: Kudeta Beach Club.
And many more…
Read also: Restaurants in Seminyak including Bars and Nightlife, Fun and Places To Go Out
and
Seminyak Beach Club | Chic, Glamorous and Flashy | Perfect For Both Day and Night
Guest access
Entire villa.
TV
Our 65″ TV is located inside our livingroom.
Sony Android 163.9cm (65-inch) Ultra HD (4K) LED Smart TV (KD-65X7500F).
The Sony KD-65X7500F TV is a model with a screen diagonal of 65 inch cm, a screen resolution of 4K, 3840 x 2160 Pixels pixels, an aspect ratio of 0,67292, 2 HDMI ports to connect a DVD.
3 USB ports to connect an external hard drive, a Chromecast, a Bluetooth receiver etc.
TV channels
Our offerings include a wide range of local and international channels, with content in various languages such as English, French, German, Spanish, Arabic, and Chinese. Whether you're looking for news, sports, entertainment, or cultural programs, you'll find a rich assortment of options to suit your preferences. Sit back, relax, and enjoy your favorite shows in the language that feels most comfortable to you.
Families are in for an extra treat as we also feature streaming options dedicated to children's programs. This means little ones can enjoy their beloved shows and characters, making sure every member of the family has a delightful stay.
Other things to note
Complimentary daily breakfast will be personally prepared in your villa at your preferred time each morning between 7 am and 11 am. Try our floating breakfast!
Cleaning is everyday and we are using cleaning supplies with disinfectant.
Car park and scooters
We really recommend you come to our villa either with a private driver or your scooter/motorcycle. Nearby paid car park option: Seminyak Square is 500 meters away (0.3 miles away from our villa). You can walk from this car park to our villa around 5 minutes.
If you decide to rent a scooter, you can park it on the premises for free (first come first serve basis).
Read also: Tips for Scooter Travelers in Bali | Safety, Price, Road conditions, Driving license and Insurance
The closest car park is Seminyak Square, just 500 meters away (or 0.3 miles), which is approximately a 5-minute walk from Villa Carissa.
Another option is Seminyak Village mall (shown in the photo), which is only a 7-8 minute walk from our villa.
hello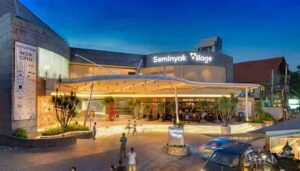 Families and children
We have welcomed many families and guests bringing children at our Villa. We love children and our space has inflatables and children's books and dvd, as well as a terrace with garden that's great for children to play. However, by making a reservation and staying at our Villa, you acknowledge the design of our Villa which naturally has plenty of stairs, steps and edges. We also have a swimming pool which is not specifically designed to accommodate young children. By staying at our Villa, you agree to attend to your children at all times and be held responsible for any children-related incidents when staying at the Villa.
Read also: Activities in Bali with children | What to do in Bali with kids?
Baby cot (crib)
We have 1 baby cot (crib) for you to use free of charge during your stay if needed. A child's safety is your responsibility. NEVER leave your child unattended.
Brand Nuna, type: SENA™ aire: Dimensions open: L 103 x W 76 x H 73 cm (L 40.55 x W 30 x H 28.74 inches).
Baby high chair
Our villa includes one high chair, thoughtfully designed to accommodate both older babies and young toddlers. This high chair provides a safe and convenient seating option during meal times.
The baby crib and high chair are complimentary throughout your stay; kindly inform us beforehand.
Noise (quiet hours)
Please be considerate! No noise between 22:00 and 8:00. Thank you.
Entry
Please note that we have the right to deny entry if the persons who show up for the stay ARE NOT the one who made the reservation, unless this was communicated prior and agreed by us (for a security reason). If you want to make an indirect booking using somebody else's Airbnb account for example (through your friend's or family's account, please make sure that this would be communicated with us in advance). Concerning our local regulations, a copy of ID card (Identification Card) or passport will be asked when you do a check-in and we will ask you to complete a registration form. Thank you for your kind understanding.
House rules
Check-in: after 14:00.
Check-out: before 12:00 noon.
No parties or events.
Please refrain from creating any loud noises between the hours of 22:00 and 6:00.
Free Wifi with Fiber Optic Internet Connection
Fast internet connection with fiber optic internet connection @VillaCarissaBali and no more long waits to upload or send large files. Whether you're travelling for business or for leisure – or combining both – you have access to the latest technologies throughout your stay, We implemented the optic-fiber for the villa's wifi connection! It is an internet connection (wifi) which allows ultra fast navigation in peace and especially high speed. Enjoy to send your beautiful pictures of Bali to all your friends and family 🙂
Is long-term rent available for this property?
Yes, long-term rental options are available. We offer long-term rental options designed to accommodate up to 6 persons comfortably. Our properties feature private pools and come with a range of services for your convenience. For more information, please explore the following link.
Getting around
– If you decide to bring a car, nearby paid car park off premises option: Seminyak Square is 100 metres away (328 feet away from our villa).
– There will not be any public transportation close to our villa. However, you may download Grab or Go-Jek click the option "Go Car" apps (like Uber): to go around. Please note that if you go to Canggu area (for example Fins beach), they can only drop you of at Fins beach, but pick up with Grab is not allowed.
– If you want to use Grab app (like Uber) to find Villa Carissa: type the address: Villa Carissa Seminyak Bali and it'll appear our villa. If not, you can type: villa Penelopy (it's just the opposite of Complex Villa Taman Sekar 1, where Villa Carissa is situated.
– Use only BLUEBIRD taxi. They earned a reputation for being the most reliable and they use their meter. They have an app too, called My Bluebird. Just be aware there are other blue taxis that look like Bluebird but aren't. The Bluebird taxis will have the word Bluebird written on them.
– Some people like to get around by scooters and we'll be happy to help you if you'd like to rent a scooter during your stay in Seminyak. Scooter rental is normally starting from IDR70 000/day depending on the type of the scooter. If you give us a head's up, we'll be able to arrange the scooters to be ready upon your arrival. Before getting a scooter, make sure your international driving licence is valid and you're covered to do so in your travel insurance. Read also: Tips for Scooter Travelers in Bali | Safety, Price, Road conditions, Driving license and Insurance
– You can hire a car with a driver in Bali for around 8-10 hours for approximately IDR 500 000 depending on the type/class of the car. This is the best and most convenient way to get around a specific region of the island. They are yours for the day and will take you where you need to go and pick you up too. It's a good idea for sightseeing and if you want to move at your own pace without the added effort of finding taxis. Read also: Bali Airport PickUp, Drop-Off Service, Excursion, Travel and Transportation Services at Villa Carissa
– On foot: Concept restaurants, chic cocktail bars, sizzling clubs, designer boutiques, eclectic art galleries and the beautiful Seminyak shore—they're hot to trot and there's no better way to get intimately acquainted with them all then strolling at your leisure. If you're walking away into that famous Bali sunset, don't forget to come back! You can Google our address: https://g.co/kgs/BLxW2n
GETTING TO VILLA CARISSA FROM AIRPORT or SEAPORT
Bali International Airport
Ngurah Rai DPS Airport to our villa Ngurah Rai Airport (DPS) (official: https://bali-airport.com)
Bali Airport  is the only airport in Bali, it has an international and domestic terminals. It is sometimes referred to internationally as Denpasar or on some internet flight-booking sites as Bali. Approximately 15.0 km/9.32 miles from the airport to our villa. It'll take around 25-45 mn (depending on traffic). Public taxi airport fee: around IDR 150,000 – 200,000 Taxi booths are abundant at the arrival terminals.
Book and pay for your taxi in advance at an official taxi company counter and you will be immediately escorted to a designated cab at the exit.
Read also: Bali Airport DPS | Important and Practical Tips to Improve your Experience at Ngurah Rai Airport
Option 2: Grab Lounge is a location for pick-up the passengers who use the Grab application service. Located in the International & Domestic arrival terminal Pick Up Zone.
NOTE: To order a GRAB with the app, you will have to have the GRAB app already installed and set-up on your phone and have the ability to use your phone in Bali. Bali airport has a free WiFi. Yes, you can also buy a SIM card at the airport to set this up.
Google our address: https://g.page/villacarissa
Port
Benoa Harbor Travel Distance: Approximately 22.0 km/13.67 miles. It'll take around 35-45 mn (depending on traffic). Public taxi fee: around IDR 150,000 Taxis are abundant at the entrance to the port—be sure to use a licensed and preferably metered taxi to avoid having to negotiate for a reasonable fare.
Pest Control
Our comprehensive pest control program is included to proactively prevent infestations and maintain a villa that's pest-free. This commitment ensures a consistently comfortable and hygienic living environment for you.
It's important to note that regular pest control is a standard practice in Bali, given its proximity to the equator and warm climate. This practice is integral to ensuring your ongoing comfort during your stay. However, please be aware that despite our rigorous pest control measures, occasional encounters with insects and mosquitoes are possible, especially in Bali's tropical climate. Rest assured, our dedicated team is always available to promptly address any concerns you may have. Your comfort and satisfaction are our top priorities.
Please Do not !!!
Do not engage in illegal activities anywhere on the property. This applies to both drugs and internet activities. Please remember that you have to follow the Indonesian laws. The owner of this villa is not liable if you are engaged with the illegal activities. The Residential Tenancy Act provide that a landlord may terminate a tenancy for illegal activity that meets one or more of the following requirements:
• Has caused or is likely to cause damage to the landlord's property.
• Has adversely affected or likely to adversely affect the quiet enjoyment, security, safety or physical wellbeing of another occupant of the residential property.
• Has jeopardized or is likely to jeopardize a lawful right or interest of another occupant or the landlord. If you get caught by the authority, the remaining balance of your stay will not be refunded. And you cannot change the date to another date. If you need more information, please do not hesitate to contact us. Thank you for your kind attention and see you soon in Bali!
Read also: Important Numbers in Bali | Essential numbers and addresses
Important numbers
When traveling to Bali, it's important to have essential contact numbers on hand to ensure your safety, convenience, and peace of mind. Here are some important numbers you should keep in your phone:
1. Emergency Services:
Police: 110
Ambulance: 118
Fire Department: 113
2. Tourist Police:
Tourist Police Hotline: 0361 754599
3. Medical Assistance:
BIMC Hospital Bali (24-hour emergency): 0361 761263
For mor info, please visit: Important Numbers in Bali | Essential numbers and addresses + Emergency Numbers
Is there a money changer nearby?
Yes, there are reputable money changers located within a short distance from Villa Carissa Seminyak Center. Our staff can provide you with directions and recommendations.
Key considerations when exchanging money in Bali (and somewherelse)
RE-COUNT your money: Always count the exchanged money in front of the money changer's representative. This simple step ensures that you receive the correct amount and minimizes the possibility of errors.
Avoid street changers: It's best to avoid using street money changers, even if they offer attractive rates. They might not provide accurate amounts or legitimate currency, potentially leading to losses.
Secure environment: Choose money changers with proper facilities like doors, air conditioning, and bright lighting. These features often indicate that the establishment is more trustworthy and committed to providing a secure environment.
In case of fire
Go out and turn RIGHT from the villa Carissa's entrance door and walk straight to the main street.
If you must escape through smoke, get low and go under the smoke to your exit. Close doors behind you. If smoke, heat or flames block your exit routes, stay in the room with doors closed. Place a wet towel under the door and call the fire department or 1-1-3. OR from your mobile phone by calling 112.
Fire in Indonesian language is KEBAKARAN.
When evacuating the villa building, be sure to feel doors for heat before opening them to be sure there is no fire danger on the other side. If there is smoke in the air, stay low to the ground, especially your head, to reduce inhalation exposure.
Fire extinguisher
Downstairs, near staircase.
Neighbourhood description
The villa is set on a green shady lane in an exclusive secure Villa Sekar Taman 1 complex. Villa Carissa lays within short walking distance to the beach and is surrounded by a great variety of restaurants, boutiques, bars and spas in chic Seminyak. For example, the chic Kudeta beach club is only 10 minutes walk from our villa.
It is a very urbanized area with many attractions, restaurants, bars, various shops, spas, beach clubs or even nightclubs. Close to all amenities and places to relax and have fun, the beaches are accessible even on foot which makes this area very attractive! It is also where Seminyak Square is located where you can stroll and get souvenirs of Bali. You will also be very close to the beach and the various Beach Club along the coast.
For all the food, party, spa, shopping lovers, you will find heaven just on your door step. Between western food restaurant," Ultimo"," Sisterfields Cafe"… fashionable bar, "red carpet", "La Favela" and many other you will never be able to satisfied all your holiday curiosity.
Complete address Villa Carissa
Complex VILLAS SEKAR TAMAN 1
Jl. Mertasari No.3
Seminyak, Kuta Utara, Kerobokan Kelod, Kuta Utara, Kabupaten Badung
Bali 80361, Indonesia
Villa Carissa exact location: Google search: Villa Carissa Seminyak
Villa Carissa WhatsApp phone number: +628113526000
How to Protect Yourself & Others during COVID
Cara Melindungi Diri Sendiri & Orang Lain selama COVID
Please read: MEDICINES IN BALI | Preparing for your trip to Bali
1.     Get Vaccinated and stay up to date on your COVID-19 vaccines.2.     Wear a mask3.     Stay 2 meters (around 6 feet) away from others4.     Avoid poorly ventilated spaces and crowds5.     Test to prevent spread to others6.     Wash your hands often7.     Cover coughs and sneezes8.     Clean and disinfect

9.     Monitor your health daily

10.   Follow recommendations for quarantine and/or isolation

11.   Take precautions when you travel

1.     Dapatkan Vaksinasi dan ikuti perkembangan terbaru tentang vaksin COVID-19 Anda.    2.     Pakai masker3.     Tetap berjarak 2 meter (sekitar 6 kaki) dari orang lain4.     Hindari ruang dan keramaian yang berventilasi buruk5.     Tes untuk mencegah penyebaran ke orang lain6.     Sering cuci tangan7.     Menutupi saat batuk dan bersin8.     Bersihkan dan disinfeksi

9.     Pantau kesehatan Anda setiap hari

10.   Ikuti rekomendasi untuk karantina dan/atau isolasi

11.   Ambil tindakan pencegahan saat Anda bepergian
Read also: What to do and see in Seminyak Bali?
Photo credit: Piqsels (Public Domain)
---
Listed on Ciel Realty – International Real Estate Agency