Private Pool Villa
Private Pool Villa Carissa is centrally located in Seminyak, Beautiful Villa with Private Pool, Bali Villa offers air-conditioned accommodation with a terrace. This property has a private swimming pool.
Is it close to Kudeta Beach and Temple. The nearest airport is Ngurah Rai International Airport, 8 km from Beautiful Villa Carissa with Private Pool, in Bali.
Eat Street is where everyone wants to be. This is Seminyak's fanciest area, full of trendy cafes, bars, designer boutiques, spas, restaurants and beach clubs. Eat Street, Oberoi Road and Jalan Kayu Aya = all the same street
Private Pool Villa in Eat Street Seminyak
Eat Street is also known as Oberoi Road and Jalan Kayu Aya. This bustling shopping and dining street is always busy day and night. In the little lanes around Eat Street you'll find all sorts of villas ideal for holidaymakers who want to be able to walk to Eat Street and the beach in minutes. Eat Street is a shopper's paradise. Walk up and down and you'll find clothing boutiques, jewelry stores, children's and surf wear, and home goods stores.
When you stay near Eat Street, you'll be within walking distance of the best beaches, clubs, bars and restaurants such as Sistefields, Motel Mexicola, Ultimo and Monsieur Spoon.
You can go for a sunset drink at KU DE TA and walk back. You can change, get dressed and go to dinner afterwards and change again before diving into the nightlife. Your villa is always nearby and you don't even have to worry about taking a taxi home in the middle of the night after partying in La Favela, You can just walk because your villa is only a few minutes away. Ideal!
Villa Carissa with Private Pool
This villa is located just 2 minutes walk from Eat Street in Seminyak, very central but tucked away in a quiet lane. You can easily walk to Kudeta Beach or Seminyak Beach or Double Six Beach, whichever beach you prefer the most. You can go shopping, eat, party and you can always walk home in minutes. The villa is one of a kind inspired by Modern Balinese houses. The villa has 3 bedrooms and a large garden with swimming pool. A gem!
Property at Villa Carissa Seminyak Center
√ Private terrace
√ Private outdoor swimming pool
√ Private garden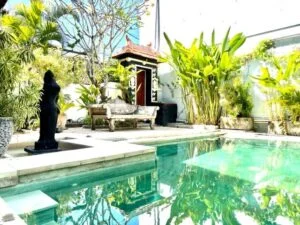 Living room
√ Air conditioning
√ Ceiling fans
√ TV (cable/satelite with national and international channels)
√ DVD player
√ Free wireless wifi (fiber optic)
Kitchen and dining room
√ Air conditioning
√ Ceiling fans
√ Kitchen stove
√ Microwave
√ Blender
√ Fridge and Freezer
√ Kettle
√ Toaster
√ Dining table and chairs
Bedrooms
√ Air conditioning
√ Ceiling fans
√ Linens provided
√ Towels provided
√ Hair dryer
√ Iron
√ Ironing board
√ Soap/shampoo provided
√ Safety box in all rooms
Local secrets near Villa Carissa
Where to go for a coffee
Located in the tourist center of Seminyak, there are many options for having a coffee. Favorite places within walking distance of Villa Abida are SOUQ Organic, Shelter Cafe, The Koop and Corner House.
Where to have breakfast
If you're not staying to have breakfast by the pool of your private villa, you can stroll down Drupadi Street and have a delicious breakfast at Wild-1. La Plancha also does a really good breakfast these days and if you're heading to Eat Street try Sisterfields, Revolver Espresso or Clean Canteen.
Dinner time
If you want a taste of authentic Balinese cuisine, go get a plate of Babi Guling (suckling pig) at Pak Malen – they are famous for it. For sophisticated and famous restaurants, you have to go to Eat Street and Petitenget. Exceptional dining options are plentiful, from Sarong to Merah Putih at Bambu, Mamasan, Metis, La Lucciola, Ginger Moon and many more.
http://villacarissabali.com/restaurants-in-seminyak-including-bars-and-nightlife-fun-and-places-to-go-out/
Nightlife and best bars
Seminyak is one of the best places to be in Bali if you are looking for night time entertainment. Start the evening slowly by listening to live performances on Double Six Beach (around sunset time). From there, check out other bands at the Orchard Bar or the Ryoshi House of Jazz. Then (maybe you need to dress up a bit at the villa) go dancing at La Favela, Mexicola or Potato Head.
The best spas
There are many local spa salons on every corner. You can get a massage or a pedicure for just a few dollars. For more high-end spas and beauty treatments in luxurious spa rooms, head to Prana Spa or Bodyworks. Ki Shiatsu offers great value for money and we also love the dancing finger massage at Jari Menari. Read also: ManiPedi (Manicure Pedicure) Spa and Beauty Treatments in Seminyak
Things to do for families
Fun at the pool, beach, water parks (including Asia's #1 WaterBom), shopping at Kids a Go-Go, ice cream at Gusto Gelato and admiring giant murals at Dream Muzeum Zone.
Activities in Bali with Children | What to do in Bali with kids? (Family-friendly activities)
Things to do for couples
Romantic dinners, sunsets, walks on the beach, shopping and plenty of time to relax at the villa. Don't forget to rent a scooter and drive together, explore Canggu or hit the beach in Uluwatu.
Seminyak offers a plethora of romantic experiences for couples seeking to create cherished memories together. Indulging in intimate dinners at the many charming restaurants sets the stage for a special evening. The stunning sunsets over Seminyak Beach provide a breathtaking backdrop for moments of pure romance. Leisurely strolls along the shoreline hand-in-hand create a sense of togetherness and serenity. Exploring the vibrant shopping scene in Seminyak adds an element of adventure and discovery.
Taking time to unwind and connect in the comfort of your private villa is an essential part of the Seminyak experience for couples. For an added touch of excitement, renting a scooter and embarking on a journey to explore nearby areas like Canggu or venturing to the picturesque beaches of Uluwatu can be a thrilling and memorable experience together. With its diverse range of activities, Seminyak provides couples with ample opportunities to celebrate their love and create lasting moments of intimacy.
What guys will love
Beach clubs, cocktails, sunsets, parties, pools, surfing and the list goes on. Check out places like Mrs Sippy, Cocoon Beach Club and W Bali.
Seminyak offers an array of attractions tailored to guys seeking excitement and adventure. The vibrant beach clubs create an energetic atmosphere, perfect for mingling and enjoying refreshing cocktails. The breathtaking sunsets over Seminyak Beach provide a stunning backdrop for memorable moments. The nightlife scene in Seminyak is renowned for its lively parties, ensuring a night filled with fun and entertainment.
Best Beach Clubs in Bali | Best Spots in Top Destinations for Beach Club Hopping
Many establishments in the area boast impressive pools, ideal for lounging and taking a refreshing dip. For those seeking an adrenaline rush, Seminyak's waves offer excellent surfing opportunities. Popular spots like Mrs Sippy, Cocoon Beach Club, and W Bali cater specifically to those looking for an unforgettable experience in Seminyak. With its diverse offerings, Seminyak provides an exciting and dynamic environment for guys looking to make the most of their time in Bali.
Read also: Restaurants in Seminyak including Bars and Nightlife, Fun and Places To Go Out
What girls will love
Girls will never tire of spas, shopping streets, beach clubs, cocktails and Instagrammable cafes.
Seminyak is a paradise for girls seeking a blend of relaxation and vibrant experiences. The area is renowned for its world-class spas, offering an array of rejuvenating treatments.
Chic shopping streets showcase a wide range of fashionable boutiques and unique finds, perfect for a shopping spree. Beach clubs provide a lively atmosphere, where one can soak up the sun, enjoy refreshing cocktails, and unwind by the sea.
Seminyak is dotted with Instagrammable cafes, each offering a unique and aesthetically pleasing experience, perfect for capturing memorable moments. With its diverse offerings, Seminyak caters to the desires of girls looking for a perfect blend of leisure and excitement.
Villa Carissa has a charming team of staff at your service during your stay. From the friendly housekeeping staff to the gardener and concierge to answer questions and handle your special requests, you'll feel welcome.
To view our thos private pool villa in Seminyak please use this website or contact our reservations team – we are open 7 days a week. Or you can book online here
When you stay at Villa Carissa, you're in the heart of Seminyak – you'll have a great vacation here!
Read also:
Spa and Massage Treatments in Bali at Private Pool Villa Carissa, Seminyak Centre
Main photo credit: Piqsels
---
Ready to book your villa in Seminyak center?
Located in Center of Seminyak – Bali, Villa Carissa offers a private swimming pool and enclosed garden to guarantee your privacy. You can book your private pool villa here with us.
Learn more about our seasonal specials and promotions.