Best Restaurants In Seminyak, Bali
Seminyak, on the west coast of Bali, is the upscale cousin of the town of Kuta, further south. The area is home to most of the island's expats, many of whom have set up shops, galleries and restaurants in the town. We list few of the best places to eat in the area. If only we could be hungry all the time while vacationing in Seminyak. It's a foodie's paradise! Here are some of our favorite places to eat in Seminyak. Good to know for restaurants in Seminyak, and mostly in Bali, for foods are not too expensive, but when you take your meal with wines, they are more expensive.
Balinese specialties
– Urab: delicious mixture of coconut, beans or other finely chopped vegetables flavored with spices and peppers. Mainly Balinese dish.
– Ayam betutu: grilled stuffed chicken, served with vegetables, tapioca and coconut. Bali specialty.
– Bebek betutu: a tasty Balinese duck speciality. Stuffed and stewed for a long time in a banana leaf, it is always ordered the day before.
– Babi guling: roasted suckling pig. Excellent when it is not too greasy. It is mostly found in Bali.
Best Restaurants In Seminyak you should try
In Indonesia, and particularly in Bali, we eat well. Rice is the staple, of course, and the national dish goes by the name of nasi goreng: fried rice with eggs, small pieces of meat and vegetables, or shrimp.
But Indonesian food is a reflection of the ethnic mosaic that the country represents: rich, surprising, varied and colorful.
Batik Restaurant, Southeast Asian, $$
Certainly one of the most beautiful decorations in Bali, Batik is a restaurant that is worth the detour as much for the content as for the form. The place is perfect for an "atas" coffee and fully experience the contradictions of expat life in Southeast Asia.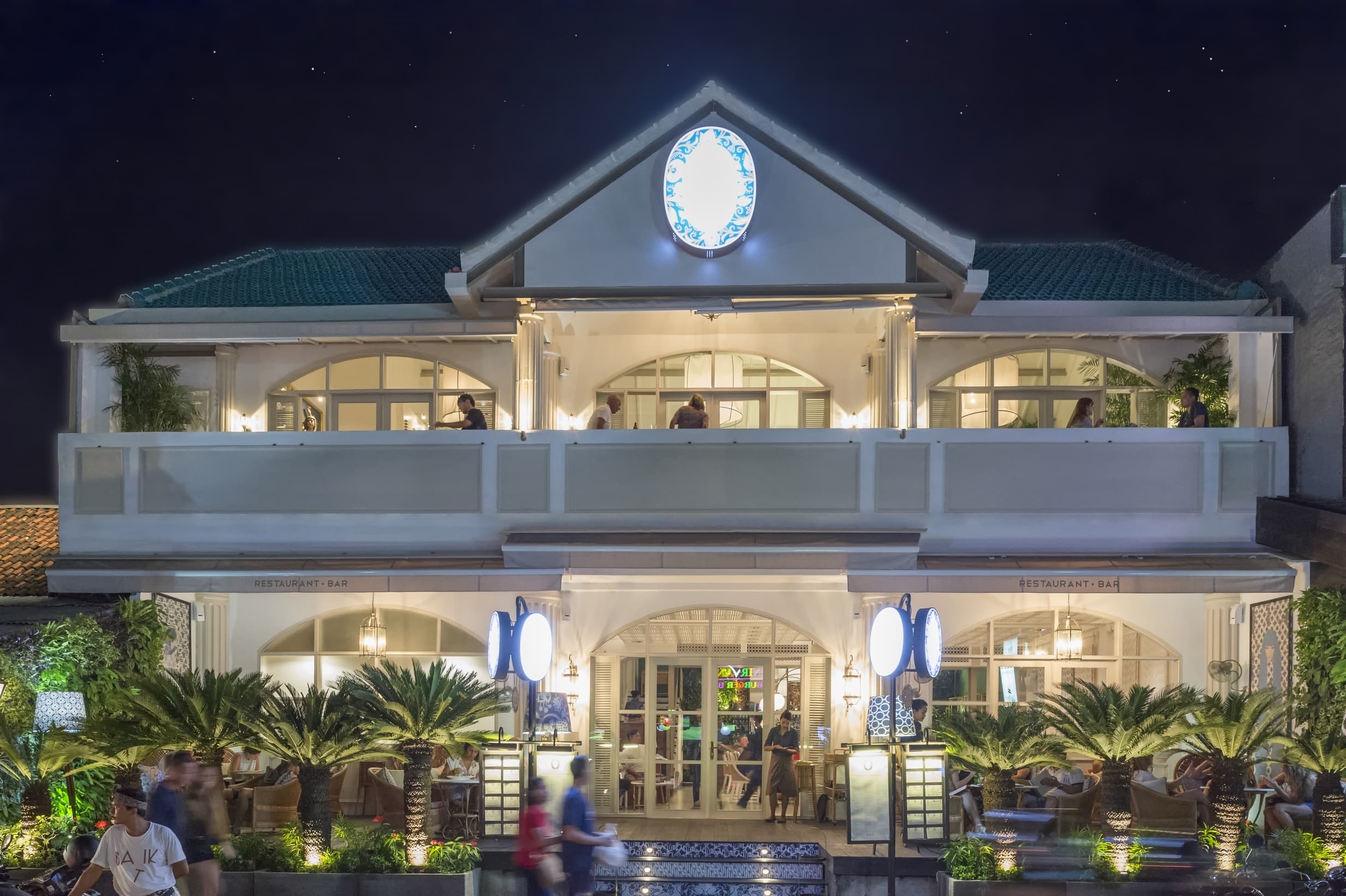 Ginger Moon, Asian Fusion, $$
Ginger Moon is a fabulous Asian fusion restaurant on Oberoi Street (Eat Street / Kayu aya Street). Really cool and stylish interiors, professional staff and delicious food, this is a must visit. The cocktails are also very good and the general atmosphere is great. Want to try a bit of everything? Ginger Moon has delicious sharing options. In fact, the menu, created by Executive Chef Dean Kedell, was created with sharing in mind. Website: https://gingermoonbali.com/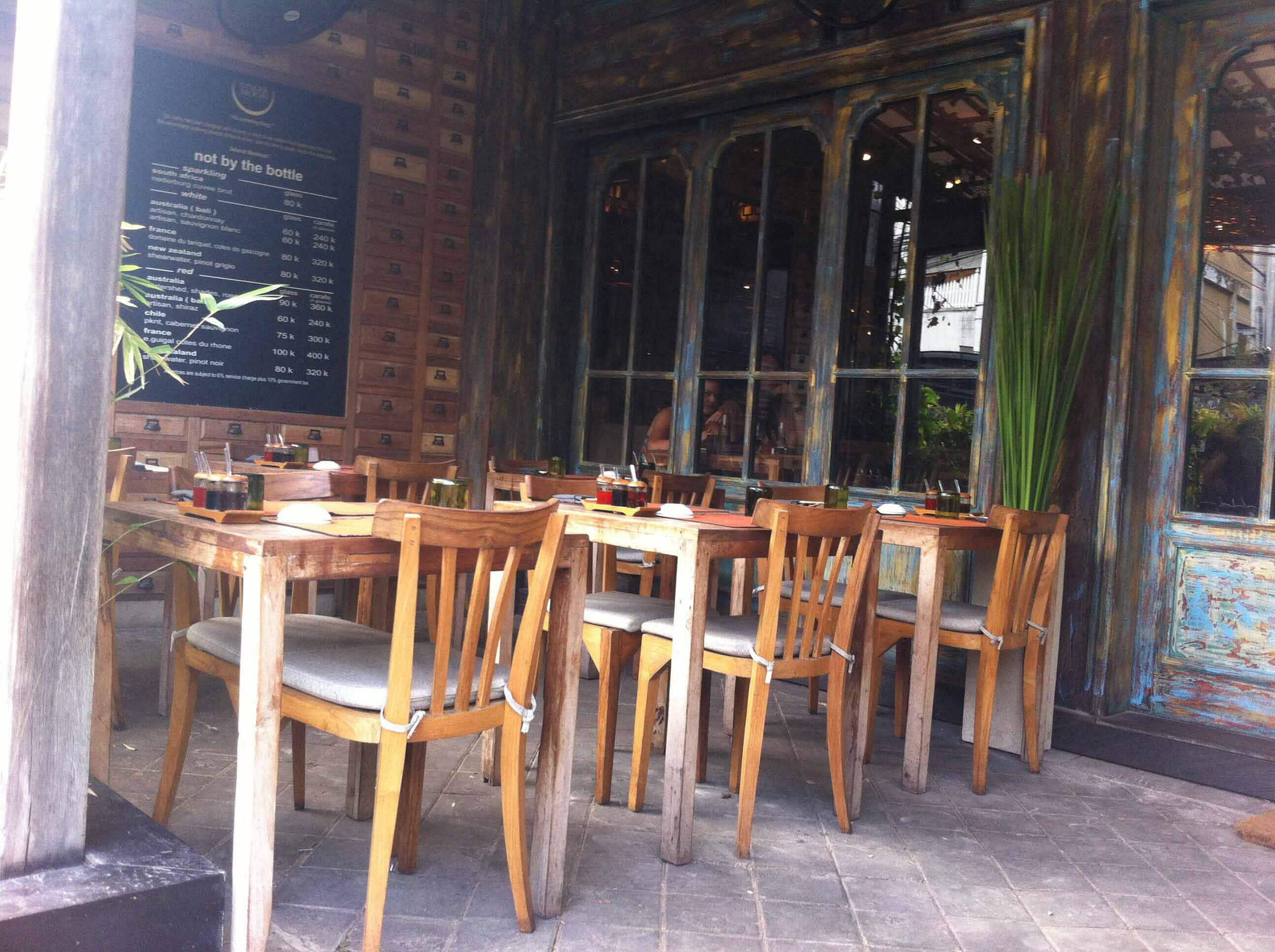 The Corner House, International, $$
At the end of Jalan Kayu Aya to go to The Corner House. And the least we can say is that it was worth it. The location is fantastic and the coffee good.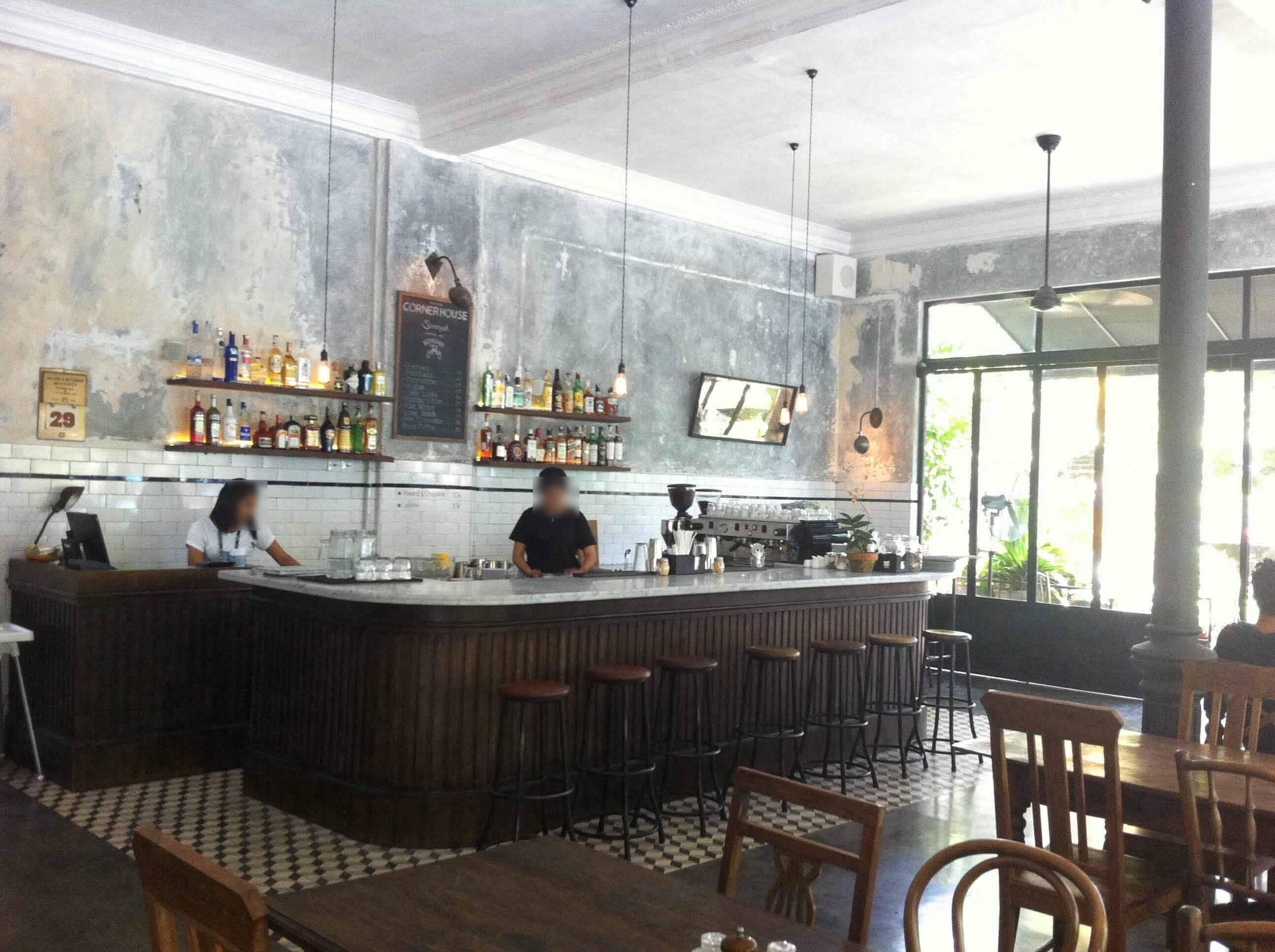 Esquina, Asian Mediterranean $$
Asian Mediterranean foods with good flavors. Waiters and waitresses at the top. The service nothing to say. Always smile and come to you regularly to find out if everything is going well. That's what we like in Bali. A bit pricey but justified given the quality of the dishes and the service, no waiting. Flawless!
Address:
Café Bali, $$
Very well located, this restaurant offers all types of food at reasonable prices. Nice decor. "Easy" cooking. A bit noisy in the evening. Cool service. Café Bali offers a very simple but varied menu. The service, very young, is really friendly and responsive! ULTRA ULTRA ULTRA fast service, very efficient staff 🙂
Sambal Shrimp, Seafood, $$
In a typical Balinese setting and a really nice place on the terrace. The products are of high quality and the service is very professional and friendly.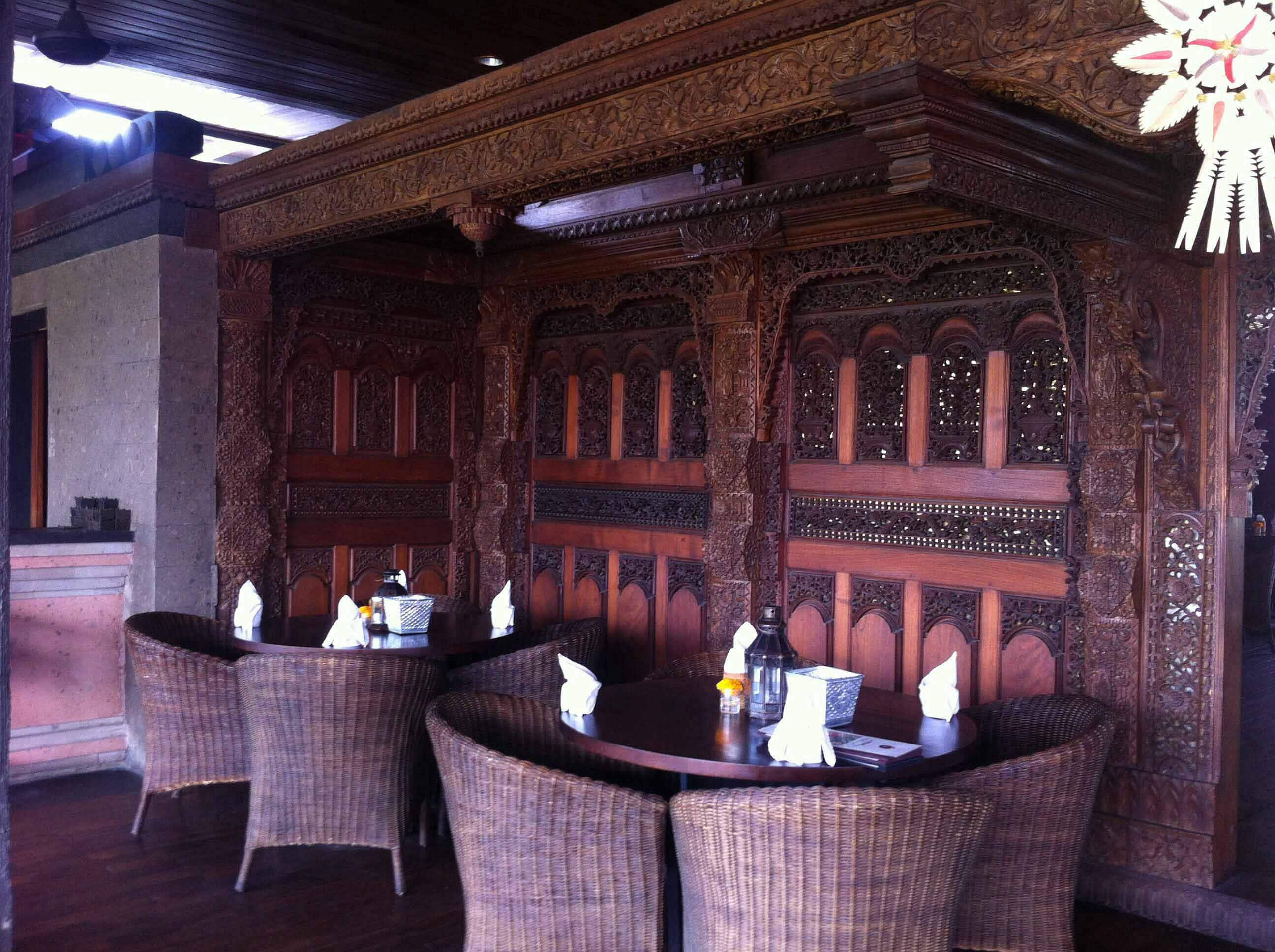 Restaurant Bambu, Indonesian, $$$
If you're looking for the perfect setting for a quiet evening, this is the place to dine. Crossing stones through a swimming pool to get to the dining room, a beautiful setting with a warm ambience. The food itself is a mix of international and Balinese cuisine, with local ingredients dominating the menu. Try the succulent duck betutu or the tangy tuna ceviche.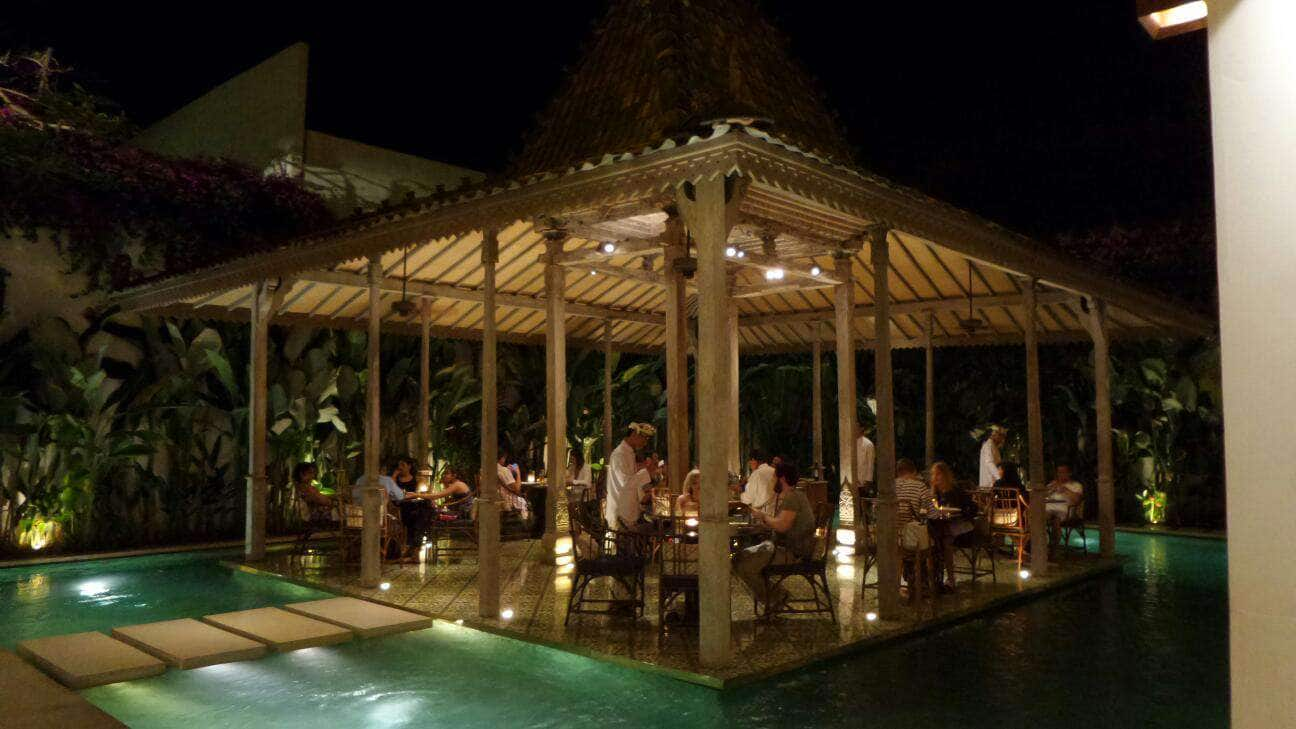 More Info Mon – Sun: 6:00 PM – 12:00 AM 198 Jalan Petitenget, Kabupaten Badung, Indonesia +623618469797
Cosy, Exterior Restaurant La Lucciola, Indonesian, $$$
La Lucciola is something of a legend in Seminyak, with waterfront views and a location next to the Petitenget Temple. The restaurant is always busy, and is usually packed until late at night. During the day, the beach gives access to the restaurant, while in the evening, it is accessed from the parking lot of the temple, via a wooden bridge lit by lit torches. The menu changes constantly with every innovation the chefs undertake, but with an emphasis on traditional Balinese flavors.
More Info Mon – Sun: 9am – 11pm Pantai Petitenget Jalan Kayu Aya, Kerobokan, Kabupaten Badung, Indonesia +62361730838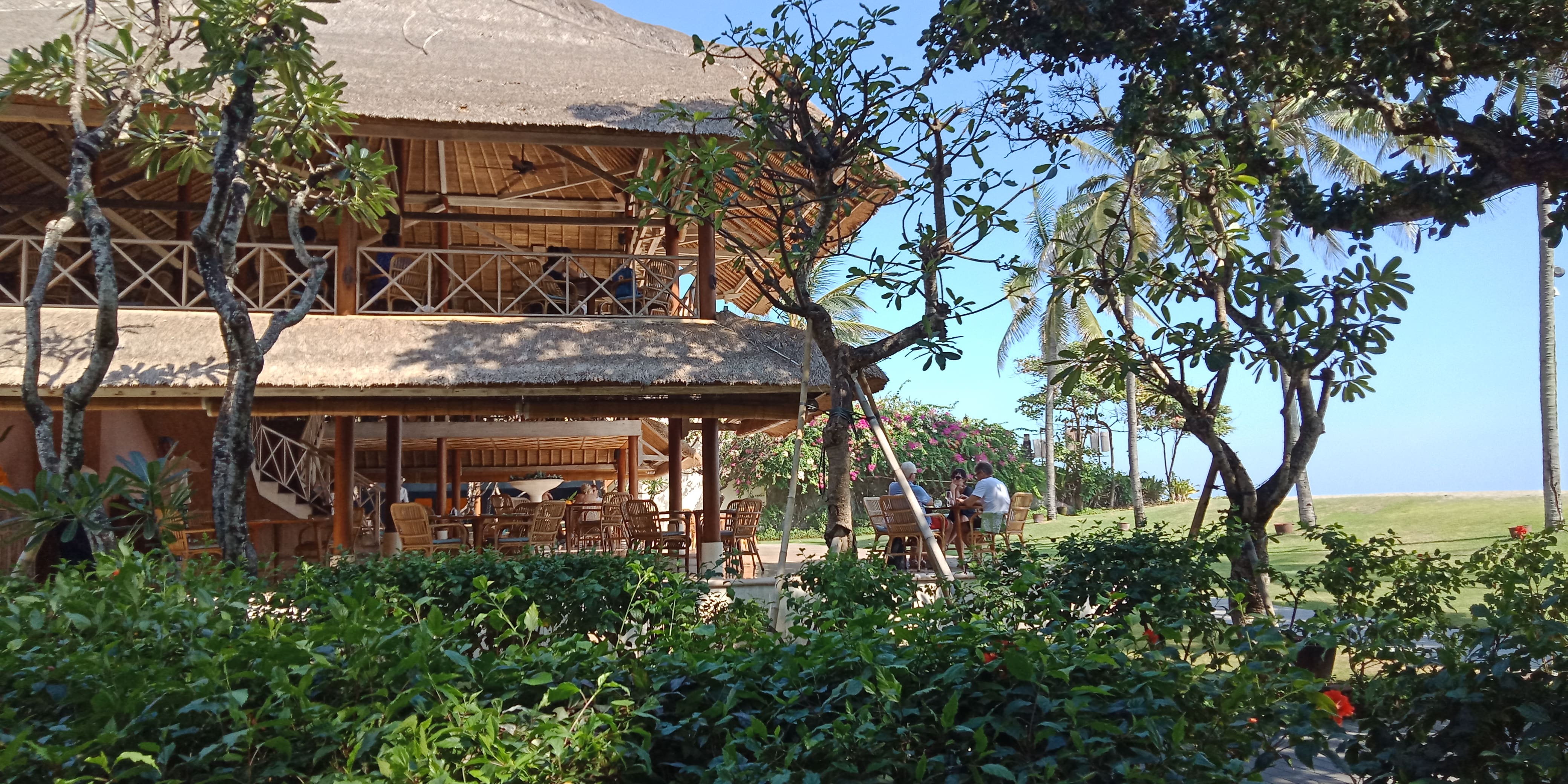 Cozy, Modern Bistro Mejekawi, Restaurant, Indonesian, $$$
Mejekawi is Ku De Ta's haute cuisine restaurant, Seminyak's nightlife beacon and the gathering point for Bali's 'happening' crowd. Its beautiful beachside setting combined with its bistro-style decor make it an attractive environment in which to sample Mejekawi's local and international cuisine. The restaurant serves two options; a set of seven or 11 dishes, each of which is prepared using precision cooking methods which can be seen through the open kitchen.
You can walk from our Villa Carissa to Kudeta, only 10 mn!

More Info Mon – Sun: 5:00 PM – 12:00 PM No. 9 Jalan Kayu Aya, Seminyak, 80361, Indonesia +62361736969 View Website
Casual Motel Mexicola Restaurant, Mexican, $$$
If you're looking for a taste of Tijuana in Bali, this is the place to get it. "More Mexican than Mexicans" is a good way to describe this place, with its shrine at the entrance to Mother Mary and multicolored tiles covering the walls. Food is a close match as well; Try fish tacos with chili mayo, donuts, burritos and, of course, tequila cocktails.
You can walk from our Villa Carissa to Mexicola, only 10 mn!
More Info Mon-Sun: 11am – 1am Seminyak, 80361, Indonesia +62361736688 Visit Website

Mexican Motel and Cafe in Seminyak. TuRbO_J from Adelaide, Australia, CC BY 2.0, via Wikimedia Commons
Restaurant Quirky Warung Eny, Bistro, Indonesian, $
One of the more low-key places you can go for authentic Balinese cuisine is Warung Eny. Its rustic and unremarkable appearance keeps the crowds away. If only they knew! The food is incredibly authentic, from grilled whole fish over coconuts to nasi goreng and even gato gato. Satay also tastes great, and if you have time, ask Eny for a cooking class.
More info Mon – Sun: 8:00 a.m. – 11:00 p.m. Seminyak, 11111, Indonesia +623614736892
Made's Warung Seminyak $$
This Warung is a bit different from the ones shown above. Indeed, Warung Made is an emblematic culinary establishment of Indonesian cuisine. The dishes are delicious and you can expect to find a rather extensive menu ranging from Gado-Gado to grilled fish, not to mention the babi guling (suckling pig) and other spicy rice. The particularity of this warung and what makes, in part, its reputation, are the representations of the typical Balinese dances which one can attend while having dinner.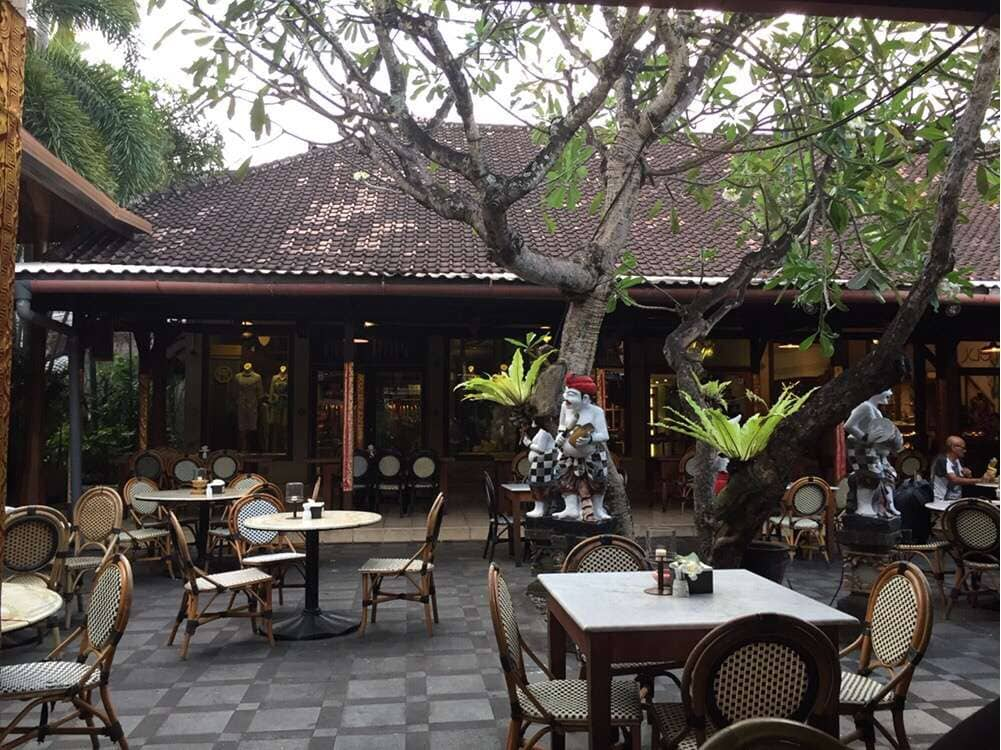 Price: 90,000 – 200,000 IDR (€8 – 18)
Address: Jalan Raya Seminyak, Seminyak, Bali
Hours: 9:00 a.m. – 12:00 a.m
Have a drink while watching the sunset
Kudeta $$$
Incredible spot! Tailor-made service, excellent food quality, music at the top! Admittedly a little expensive but it is well worth the price given the quality!
La Plancha $$
A colorful bar with big beanbags to sit and sip a fresh juice (the banana juice is delicious) or a beer facing a breathtaking sunset. It was enough to seduce me! It must be said that the sunset over the sea is really breathtaking! Judge by yourself !
To watch the sunset, come relatively early to hope to have a table, because the place is very busy. But at worst, you can always fall back on another bar on the beach, the sunset will be the same!
Read also: Seminyak Beach | The ideal beach to see a wonderful sunset in Bali
Where to go out at night in Seminyak?
Red Carpet Champagne Bar $$
The red carpet is the theme of this champagne bar located on the busiest street in Seminyak with all the best restaurants, bars and shops in the area. Rather chic atmosphere and proper dress required. The prices are correct, the service efficient and you are right on rue de Oberoi so you can watch the excitement unfold before your eyes.
For a beer about IDR 50,000 rupees. For a glass of white wine around IDR 100,000.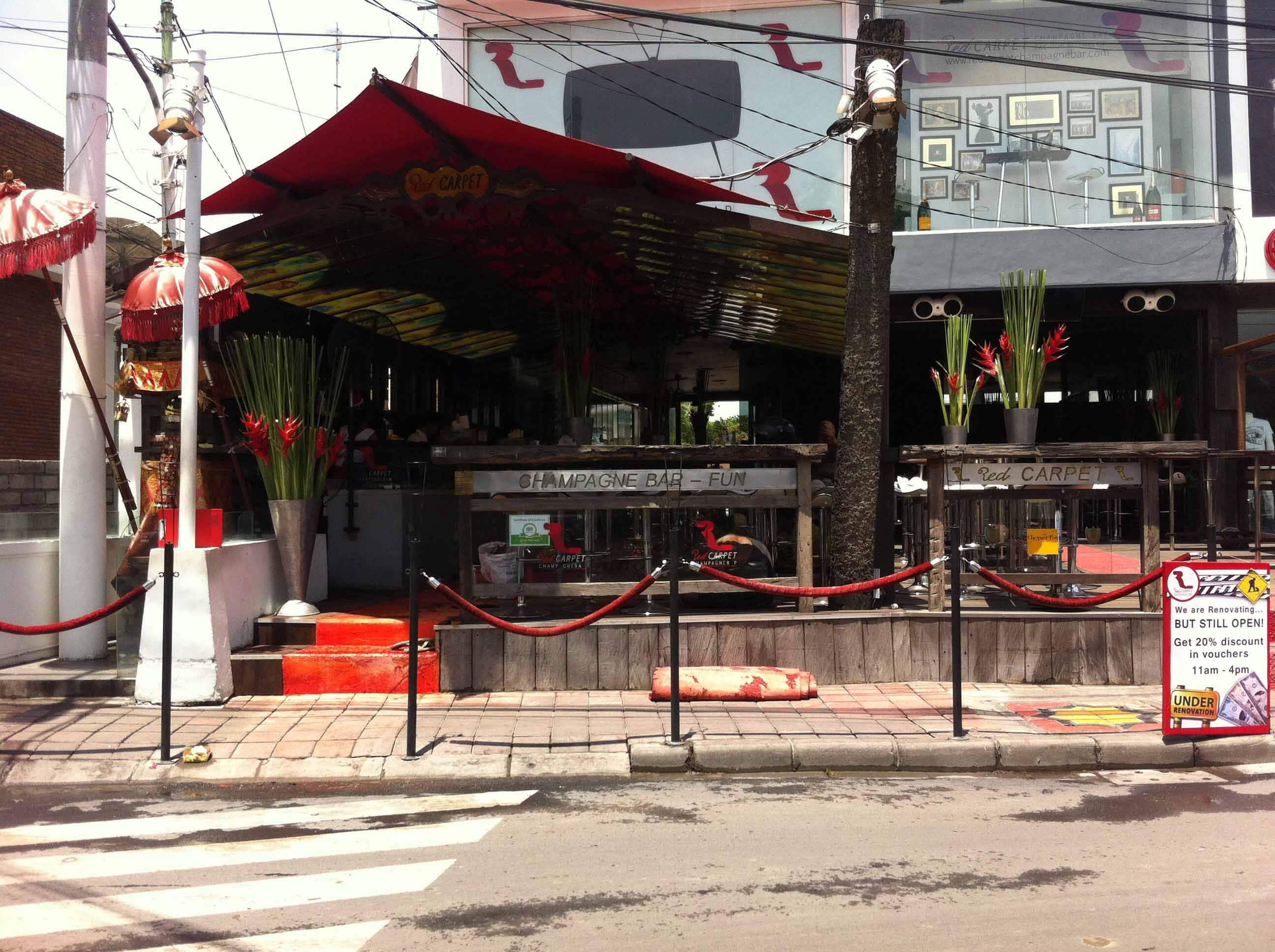 Address and Contact
Red Carpet Champagne Bar
Jl. Kayu Aya, Kuta Utara, Kabupaten Badung, Bali 80361
redcarpetchampagnebar.com
+62 361 737889
Partying in Seminyak
Where to go out in Seminyak Bali: party at Mexicola in Seminyak
La Favela $$$
Behind a sall, narrow entrance that does not look like much hides THE nightclub not to be missed in Seminyak. Anyway, it's simple: everyone is there! Several rooms and dance floors await you. The decoration is surprising and eclectic as we like them! In the middle of the bar, the trees have made their way. We are far from classic nightclubs. You need to dressup to come here, no flip flops, no short pants for man.
Good to know: at dinner time (Western, Asian), the supercharged Favela turns into a restaurant where you can also have a drink.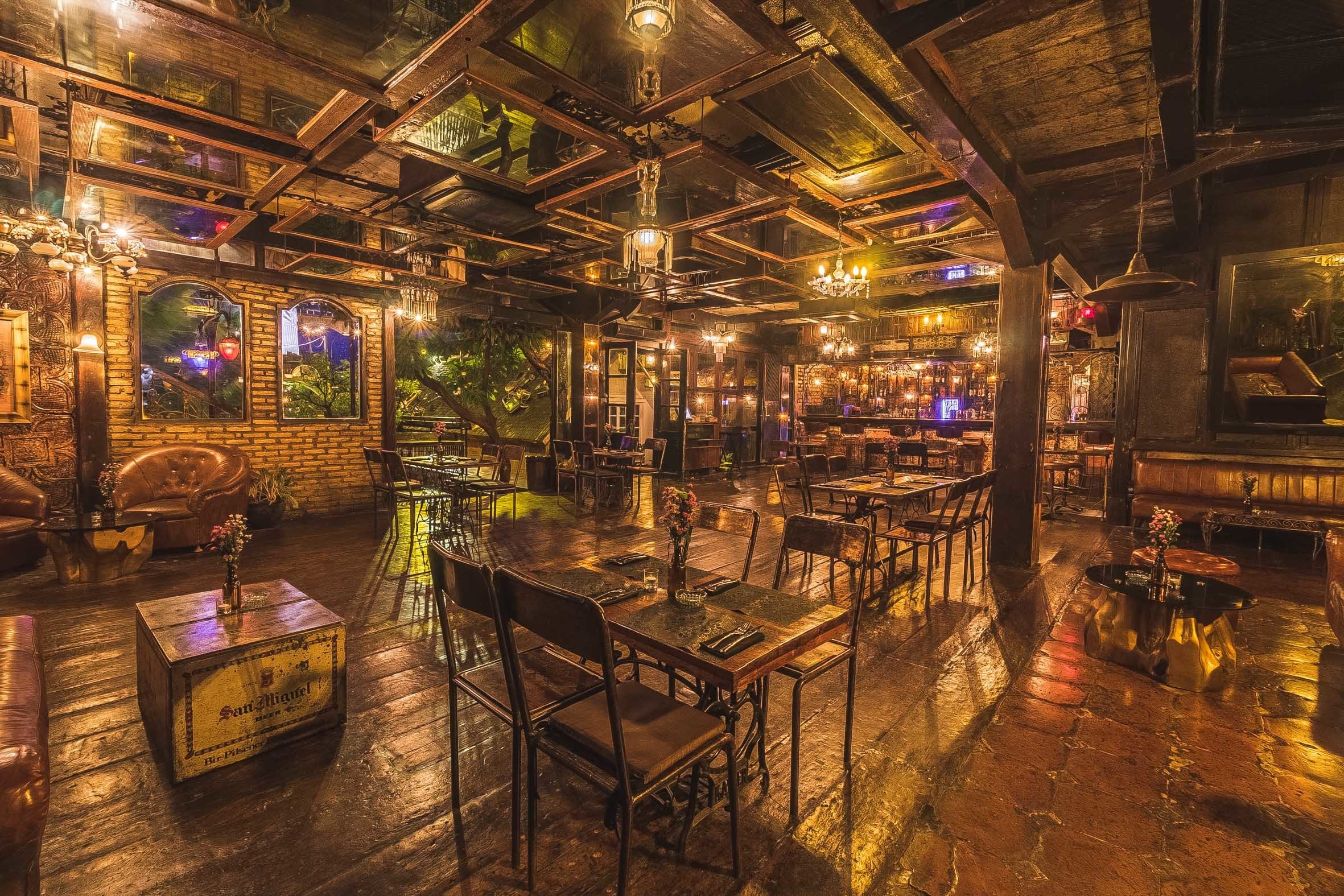 Mexicola $$$
This restaurant turns into a dance bar as soon as the service ends. Once the plates are cleared, people dance on the tables and the atmosphere is completely charged until 1am. The "dance floor" is located under a large glass roof. Watch out, it's going to be hot! Literally as figuratively ! An original place!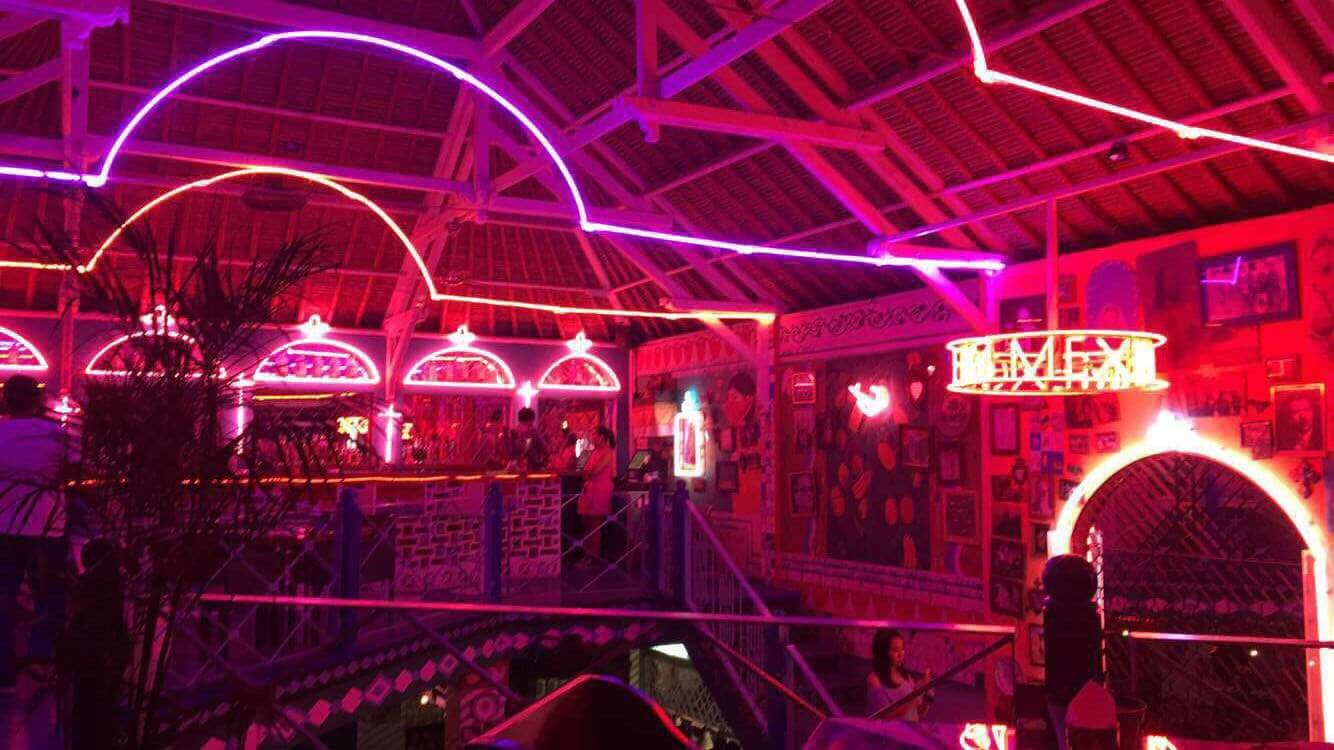 Mirror $$$
It feels like a gothic cathedral with stunning stained glass windows and futuristic lasers piercing the dance floor. Welcome to the Mirror! In such an atmosphere, clubbers are completely immersed and often international sizes are programmed on the turntables. The music is very good and the place is not crowded (all things considered, we are still talking about a nightclub). Very friendly staff, which contributes to the good atmosphere of the establishment. Place not too crowded with locals and tourists.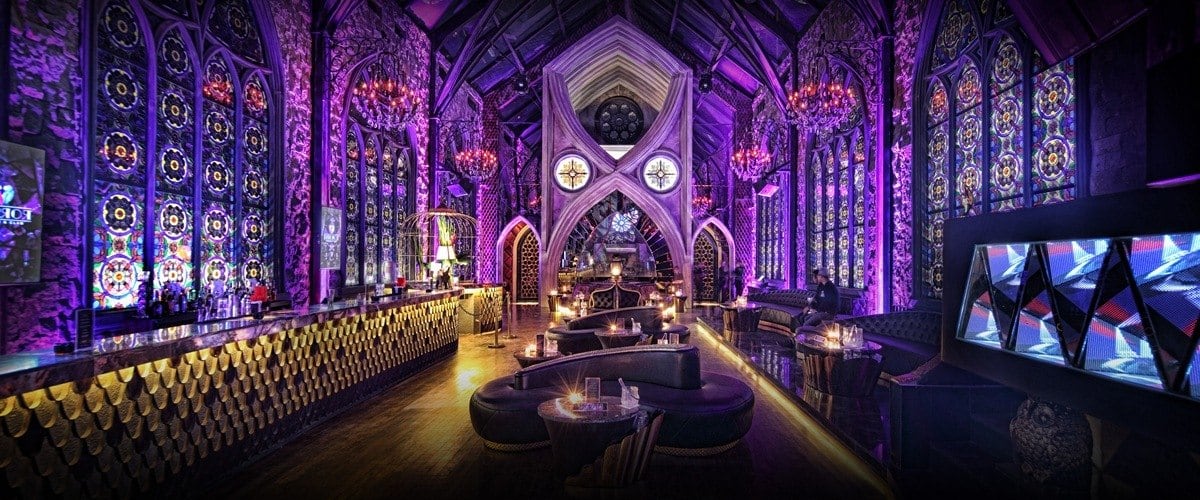 Jenja $$$ Permanently CLOSED 🙁
Jenja is the trendy club for going out in Bali. It is a bar-club located in Seminyak on the street that goes towards the Double Six beach. The atmosphere and the music are there and we often invite well-known DJs who know how to set the mood in the evenings. Address: Seminyak Town Square Suites Jl. Nakula Seminyak, Bali. You need to dressup to come here, no flip flops, no short pants for man.
Hours: 8:00 p.m. – 4:00 a.m.
Contact: +62 361 8469077
Read also: Seminyak Beach Club | Chic, Glamorous and Flashy | Perfect For Both Day and Night
Sources: TripAdvisor, Zomato
Photo credit (main picture): mtommartin via Pixabay
---
Ready to book your villa in Seminyak center?
Located in Center Seminyak – Bali, Villa Carissa offers a private swimming pool and enclosed garden to guarantee your privacy. You can book your private pool villa here with us.
---